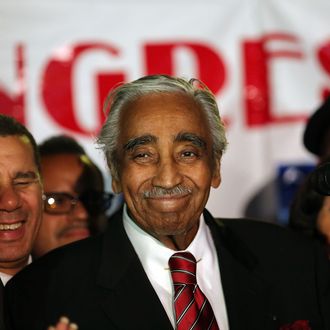 Photo: Spencer Platt/2012 Getty Images
When U.S. Representative Charlie Rangel and State Senator Adriano Espaillat faced off in 2012, it was unclear who won the race for New York's 13th District for three weeks. Yet, on Thursday afternoon, Espaillat decided to concede just two days after suggesting he would contest the results. Absentee and affidavit ballots won't be counted until next week, but after the Associated Press reported that those votes couldn't put Espaillat over the top, he called Rangel to congratulate him on winning a 23rd term, and announced his plans to run for re-election to the State Legislature. Rangel had already declared himself the winner on election night, but it doesn't seem like he's ready to put the election behind him.
When NY1's Errol Louis asked Rangel if he'd consider endorsing Espaillat in an interview on Thursday night, Rangel said, "I'd rather not make comment until I can think this thing over," then made two digs at his two-time opponent. In addition to noting that Espaillat suggested he wouldn't run for reelection during the campaign, Rangel alluded to a campaign claim that got him in trouble: that Espaillat had no qualifications "besides saying he's Dominican." "What I told Espaillat is that we've never had polarization in this congressional district, and while every group has a sense of pride in their own culture and background, the most important thing is that people agree that we have a common agenda no matter what office it is," Rangel told NY1. In other words, no, he's not endorsing Espaillat.