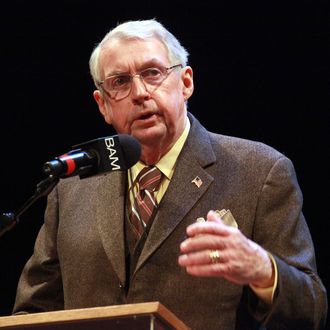 Photo: Astrid Stawiarz/2012 Getty Images
Charles J. Hynes, the Brooklyn district attorney of more than two decades who would just not go away, even running for reelection as a Republican in a last-ditch effort last year, may have been up to even more shadiness than trying to appear on a reality show. (Even in addition to all of those potentially wrongful convictions.) According to a New York Times report today, a city inquiry has found that Hynes paid more than $200,000 to an 89-year-old political consultant, Mortimer Matz, using funds seized from drug dealers and other criminal defendants. That's not allowed.
From the Times:
In 2012 and 2013, Mr. Matz's firm was paid $219,824 for "public relations and communications services rendered." Investigators said that during that period, Mr. Matz "provided few if any actual public relations and communications services to the office," adding that the consultant served "primarily if not exclusively as a political consultant to Hynes personally."

The investigation found that in 2013, the office typically issued two or three checks each month to Mr. Matz's firm from state asset-forfeiture funds; from 2003 through 2013, investigators said, the district attorney's office paid the firm about $1.1 million from those funds. State law requires that asset-forfeiture funds be used only for law enforcement purposes.
The matter has been referred to the state attorney general, and Hynes could face felony larceny charges, in addition to allegations of official misconduct. Plus, as always in these investigations, there's embarrassing correspondence in addition to the potentially criminal stuff:
The emails also provide insight into Mr. Hynes's aggressive campaign, in which he described one opponent in the Democratic primary, Abe George, as a "nebish" and another opponent, presumably [new DA Ken Thompson], as "this Turkey," and rendered the Brooklyn neighborhood Bushwick as "Bushwhack," in an apparently sincere error.
Surely the illegal use of funds was in sincere error as well.