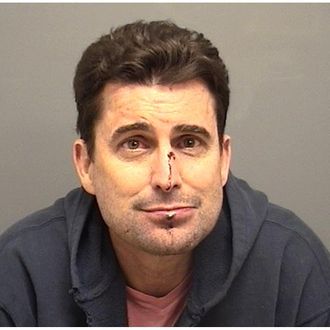 Former CBS 2 News anchor Rob Morrison, who quit his $300,000-per-year job after allegedly choking his wife last year, was back in court yesterday following an arrest for harassing his estranged wife with 121 phone calls over a three-day period. Most of those calls, 109 to be exact, came on May 25, the same day Morrison's wife Ashley, who's also a former CBS news anchor, went to Darien, Connecticut, police to report the harassment. She was "physically shaking" and "in a very fragile state," according to the arrest affidavit obtained by the Connecticut Post. Morrison was previously accused of choking his wife after she hit him in the face with a remote while watching Mystic Pizza. Last February he denied the charges to a New York Post reporter during happy hour at a Stamford Buffalo Wild Wings. 
Morrison's harassment strategy was simple, police said. He "would hang up and call right back for approximately 14 hours."
Ashley Morrison told Darien police she was afraid "Rob Morrison could kill her if she has him arrested." By the time police came calling for Rob Morrison early this week, the couple had made up. Ashley Morrison reportedly "became irate" when police told her they had a warrant for her husband's arrest, telling them "things are fine and she does not want to pursue any charges." Then she picked her son up from school and flew to Florida.