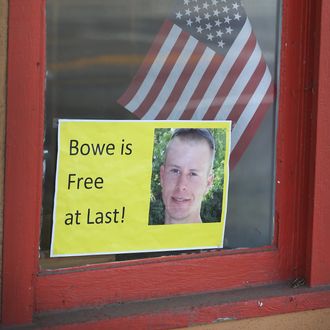 Photo: Scott Olson/2014 Getty Images
Right after the Obama administration announced that American POW Sergeant Bowe Bergdahl had been freed in exchange for five Afghan prisoners from Guantanamo Bay, certain Republican lawmakers began loudly questioning the transfer which, they said, amounted to negotiating with terrorists. Meanwhile, people with a more personal connection to Bergdahl — members of the military who served with him and searched for him after he went missing in Afghanistan — have started criticizing the newly released soldier himself.
The details of Bergdahl's 2009 capture were mostly kept from the public during the five years he was in the custody of the Taliban. However, in 2012, the late Michael Hastings reported that Bergdahl had sent his parents emails indicating that he had grown disillusioned with the war and the American military, and that he was considering desertion. Now that the 28-year-old is safe, some of his fellow troops say that they have always known that he purposely walked off his base in the middle of the night, and that they don't believe that he should treated as a hero when he returns to the United States. "The amount of animosity (toward him) is nothing like you've ever seen before," said a soldier who was in the area when Bergdahl disappeared.
The troops' explanations for exactly why Bergdahl left his unit vary. But they all seem to agree that at least six soldiers died as part of the subsequent search effort. As Former Private First Class Jose Baggett, who was among those sent to look for Bergdahl after he disappeared, told CNN:
"He walked off," Baggett told CNN. "He left his guard post. Nobody knows if he defected or he's a traitor or he was kidnapped. What I do know is, he was there to protect us, and instead he decided to defer from America and go and do his own thing. I don't know why he decided to do that, but we spend so much of our resources, and some of those resources were soldiers' lives."
While speaking to CNN, former Sergeant Matt Vierkant, a member of Bergdahl's platoon, said, "I was pissed off then, and I am even more so now with everything going on. Bowe Bergdahl deserted during a time of war, and his fellow Americans lost their lives searching for him."
In a Monday Daily Beast post, Nathan Bradley Bethea, who served with Bergdhal and participated in efforts to retrieve him, wrote, "He deserted. I've talked to members of Bergdahl's platoon — including the last Americans to see him before his capture. I've reviewed the relevant documents. That's what happened." And:
I believe that Bergdahl also deserves sympathy, but he has much to answer for, some of which is far more damning than simply having walked off. Many have suffered because of his actions: his fellow soldiers, their families, his family, the Afghan military, the unaffiliated Afghan civilians in Paktika, and none of this suffering was inevitable. None of it had to happen. Therefore, while I'm pleased that he's safe, I believe there is an explanation due. Reprimanding him might yield horrible press for the Army, making our longest war even less popular than it is today. Retrieving him at least reminds soldiers that we will never abandon them to their fates, right or wrong. In light of the propaganda value, I do not expect the Department of Defense to punish Bergdahl.
Though Bethea also said that he "forgave" Bergdahl, others have been less generous. Bergdahl's former squad leader, Greg Leatherman, told CNN that he was also "pleased to see him returned safely" and hoped there would be an investigation "as soon as health care professionals deem him fit to endure one." But Jake Tapper later revealed that Leatherman was the moderator of a vitriolic, 8,000-member Facebook group called "Bowe Bergdahl is NOT a Hero!" Meanwhile, an anonymous former member of Bergdahl's squad has been unhappily tweeting about the situation:
…"Cody" tweeted this weekend that before he disappeared, Bergdahl once told him, "If deployment is lame, I'm going to get lost in the Mountains and make my way to China."

Cody noted in his Twitter recollections a story that others from Blackfoot Company relay. While soldiers were searching for Bergdahl, a platoon "came upon some children, they asked him have they seen an American. The children said 'yes, he was crawling on his belly through weeds and acting funny a while ago,'" according to Cody.
"While searching for him, ambushes and IEDs picked up tremendously," Cody added. "Enemy knew we would be coming."
It's not clear what will happen to Bergdahl once he is home. Over the weekend, National Security Adviser Susan Rice and Secretary of Defense Chuck Hagel avoided questions about whether he would be prosecuted if it was determined that he had, in fact, deserted. And even some of the members of the military who condemned Bergdahl's actions said that the five years he spent imprisoned by the Taliban were "enough" punishment. For now, he is at the Landstuhl Regional Medical Center in Germany, where he's receiving mental and physical evaluation and treatment. "There is no pre-determined amount of time involved in the reintegration process," said a statement issued by the military hospital. And this one might be especially complicated.