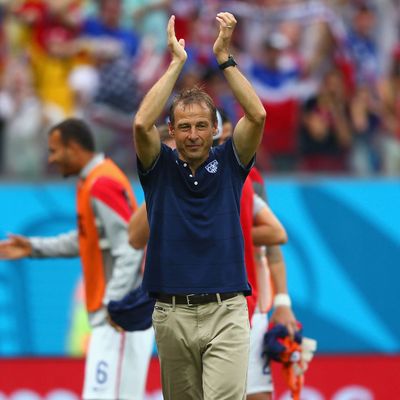 Jurgen Klinsmann, after the game.
Photo: Michael Steele/Getty Images
To advance to the knockout round, the U.S. either needed to beat Germany today, tie them, hope for a draw in the Ghana-Portugal game, or lose in such a way that they had a better goal differential than the team they finished tied with. It's that last scenario that wound up punching their ticket to the Round of 16: The U.S. lost 1-0 to Germany, but a 2-1 Portugal win meant that the Americans would advance out of the group stage for the second straight World Cup. Torrential rains made for a soggy field in Recife, and flooded streets kept many team's friends and family from reaching the stadium. But the American fans that made it watched their team finish second in the so-called Group of Death. Couldn't sneak out of work to watch it all? We've got you covered.
Teddy Goalsevelt was in the house again, and he brought his friends.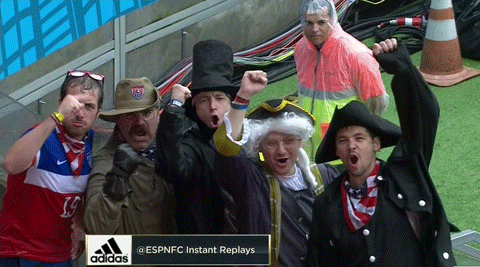 Protocol dictates that one should break salute and scream if shown on TV during the national anthem.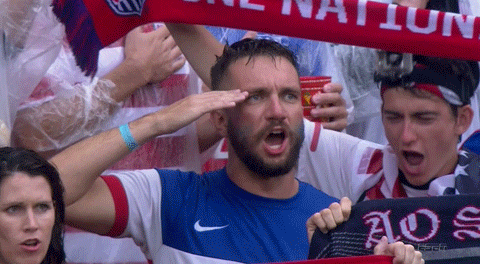 Germany maintained possession early in the first half, but Tim Howard played well, and Omar Gonzalez nicely defended this opportunity in the box.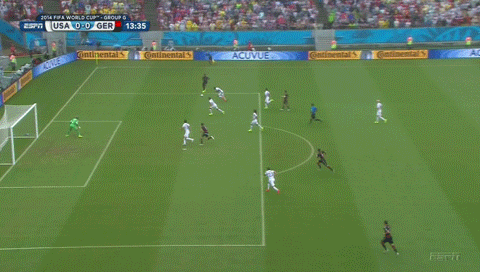 Meanwhile, at the other end of the field, the referee nicely defended Jermaine Jones.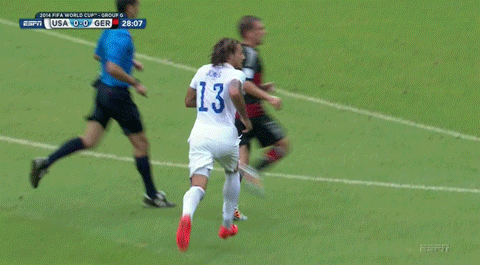 This was one of the better U.S. chances in the first half…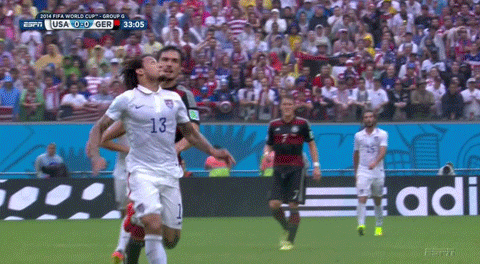 …and Jones's reaction was one of the better reminders of how soaked the field was.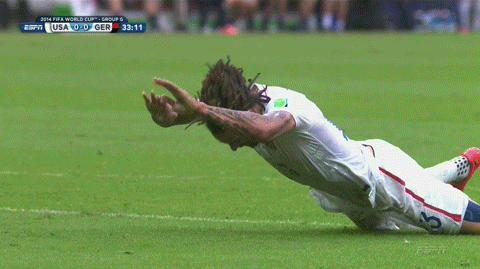 Servicemen in Afghanistan. Careful with the gun, please.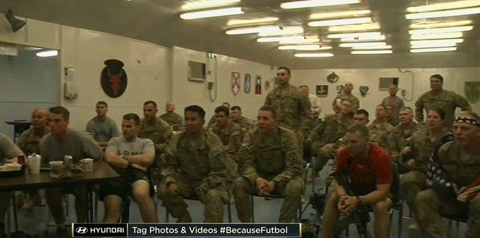 After a corner kick and a big Howard save, Thomas Müller gave Germany a 1-0 lead in the 55th minute.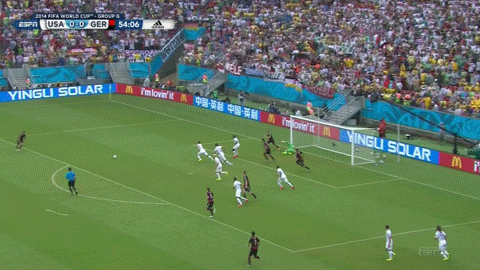 Later in the second half, Jones got the worst of this scary collision with Alejandro Bedoya.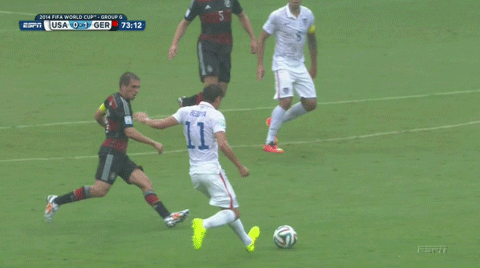 The 1-0 Germany lead and 1-1 score in the Ghana-Portugal game made for a tense scene in Recife, as another Ghana goal could have sent the Americans home. But a Cristiano Ronaldo goal gave Portugal a 2-1 advantage, which was great news for the U.S. team, who entered the game way ahead of Portugal in goal differential. Word of the goal spread quickly.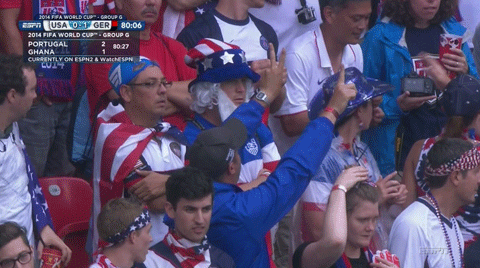 Those results would hold, and so even with the loss to Germany, the 2-1 Portugal win meant that the Americans could celebrate their trip to the knockout round.