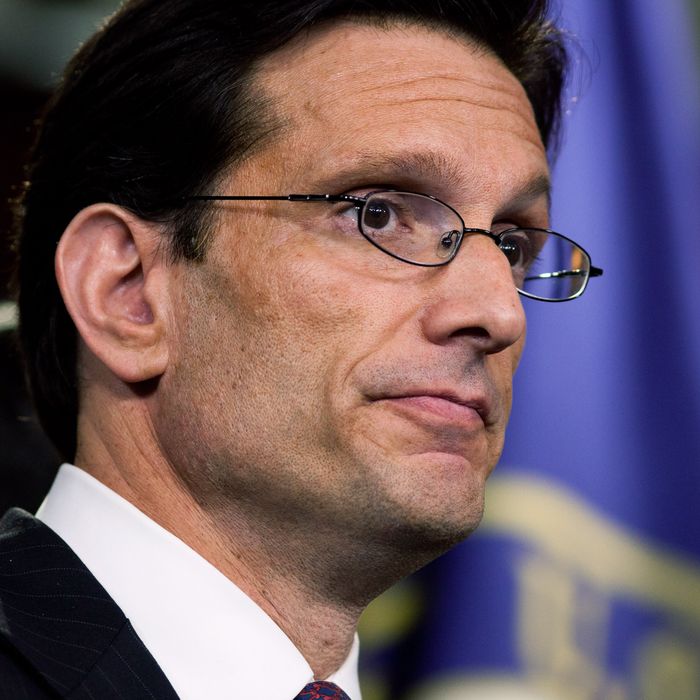 My primary defeat has triggered a little-known loophole.
Photo: Brendan Hoffman/2011 Getty Images
House Republicans have been promising to unify around an alternative health-care plan since the health-care debate started in 2009, yet they somehow keep failing to get around it. At their caucus retreat in January, the vowed that this time, seriously, for real, they're totally going to vote on an official Republican plan to replace Obamacare. There appeared to be no wiggle room in this solemn promise: "House Republicans will rally around and pass an alternative to Obamacare this year."
Since then, the Party has displayed suspiciously little progress toward fulfilling its goal. A cynic might suggest this was the intent all along. After all, any health-care plan has trade-offs. The advantage of not having an official Republican plan is that it allows Republicans to endorse whatever plan suits their needs at any given moment without taking responsibility for any downsides. They could cite the hypothetical benefits of their as-yet-unwritten plan, or perhaps grab this or that feature from any of the various Republican proposals floating around, without taking any responsibility for the costs or missing features they contained. But the game only works until you actually vote on a Republican health-care plan.
Now Jennifer Haberkorn reports, "House Majority Leader Eric Cantor's shocking primary loss Tuesday night all but kills any chance of the House voting on an Obamacare replacement bill this year."
Wait — why would Cantor's defeat nullify the Party's promise to vote on a replacement plan for Obamacare? Because the leader who officially issued the promise to hold the vote was Cantor himself. And now he's gone.
Well, not gone. Cantor is still here. One Republican explains to Haberkorn:
"He's the guy who made the commitment," said Rep. Phil Roe (R-Tenn.), and a strong advocate of a House floor vote. "I mean, he's not dead. He'll be there until the end of the year. But I think that it lessens the chances."
So Cantor is still, technically, alive. And there's still plenty of time to bring the bill to a vote before he departs at the end of July. But the fine print on the promise to hold the health-care vote clearly implies that it is null and void if Cantor dies or loses a primary or is submerged in water.
And yes, they could bring a bill to the floor even after Cantor's tenure as Majority Leader ends. But that would be an insult to the memory of Eric Cantor.