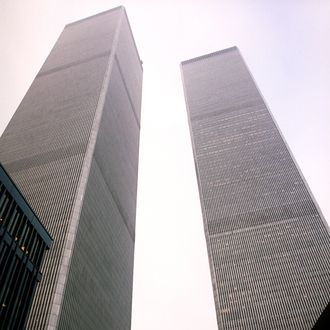 When they were new, they were half-empty too.
For now, even as One World Trade Center settles into the skyline and New Yorkers orient themselves by its spire, many of its vast, daylight-filled, view-commanding floors remain empty expanses of concrete floor and exposed ducting. Despite the presumed magnetic pull of Condé Nast, which snapped up a million square feet early on, those floors could stay raw for a while. With prices dropping and a little more than half of the tower's 3.1 million square feet rented a few months before it officially opens, the nearly $4 billion building is looking a little like a very tall white elephant. But by the standards of the original Twin Towers, which took a decade to populate and then only by padding them with government agencies, the new World Trade Center's situation looks less dire. Compared to the Empire State Building, which opened mid-Depression with less than a quarter of its floors filled, 1 WTC looks like a spectacular success. Half full is normal.
It's not just that big buildings fill slowly, it's that they create their own unpredictable weather systems, transforming neighborhoods, shifting centers of gravity, and reconfiguring business patterns. Of course One World Trade isn't just any big tower: It's the world's most visible terror magnet, and even if the years go by with no more attempted attacks, the memories won't fade for a generation. Still, there are plenty of reasons why a massive downtown tower should be slow to rent, none of them having much to do with security or symbolism. The area has always competed with midtown, which keeps expanding toward the Hudson River, creating the prospect of ever more and fancier offices. Hoboken and Jersey City have become honorary New York office districts too. Besides, by 9/11, the Financial District was already well on its way to being a misnomer, with banks and brokerage houses being converted to condos. And while developers keep putting up trading-floor-friendly skyscrapers with fast elevators and no columns, many of the trend-setting tech companies would rather repurpose old brick sheds than move into brand-new aerial fishbowls.
But the main reason to defer panic is that megatowers, like people, are conceived in states of irrational optimism and born into a more complicated world. Gestations are long, and markets move more quickly than construction schedules. Conceptually, at least, this tower's been in the works since September 12, 2001, and even before opening, it has weathered New York's post-attack gloom, a Bloomberg rebound, the Great Meltdown of 2008, and a strenuous recovery. Immense, expensive buildings outlast the financial circumstances of ribbon-cutting day. Who remembers now that in the early 1930s, the now-august icon at 34th Street and Fifth Avenue was nicknamed the Empty State?