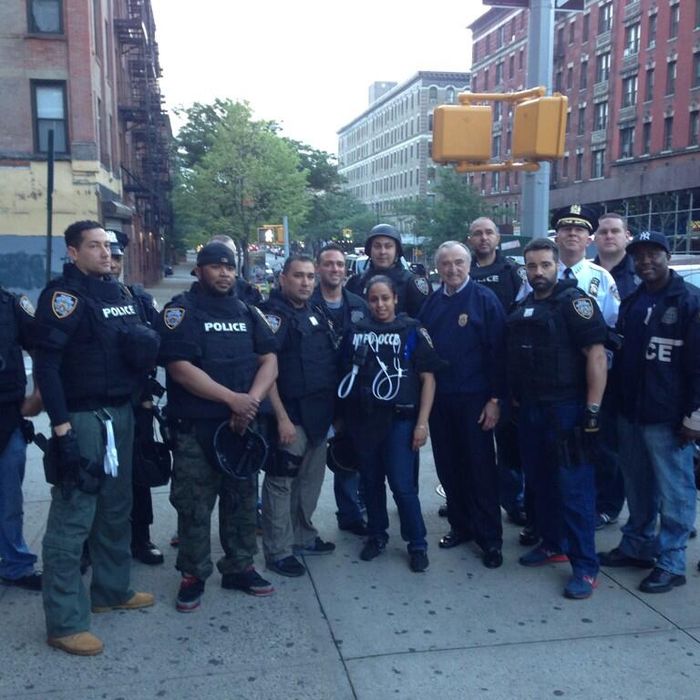 NYPD Gang Division in West Harlem Wednesday
Photo: Commissioner Bratton / Twitter
Hundreds of cops raided two West Harlem public housing complexes in the very early hours Wednesday morning, rounding up suspect gang members in what is being called the biggest gang crackdown in city history. More than 40 people were likely roused from sleep and arrested, primarily in the Manhattanville and Grant Houses. In total, more than 100 alleged gang members were indicted on counts that included two murders and 19 non-deadly shootings from January 2010 to this May, among other charges. Besides the slew of arrests, 39 suspects are already in jail, while the remaining defendants remain at large.
District Attorney Cyrus Vance said the feuding between rival gangs had turned the neighborhood into a "war zone." The three groups at odds are the 3Staccs, primarily from the Grant Houses, who are supposedly pitted against the Make It Happen Boys and Money Avenue gang, largely affiliated with the Manhattanville complex.
The hostility between the cliques is long-standing, but the rivalry had escalated in recent years, intensifying with the 2011 murder of star basketball player Tayshana "Chicken" Murphy, who was shot dead in a Grant Houses hallway. That murder was included in the indictment, along with a December 2011 killing, which was assumed to be in retaliation for Murphy's death. It's been a violent back-and-forth that has persisted — with suspected gang affiliates, of course, broadcasting the beef on Facebook.
Vance and NYPD Commissioner Bratton pointed out that the arrests were the result of a four-year investigation, spurred by the uptick in violence in the area. And the details of the indictment are pretty alarming, with kids as young as 10 apparently transporting guns, DNAinfo reports, and a teen as young as 15 brought up on charges.