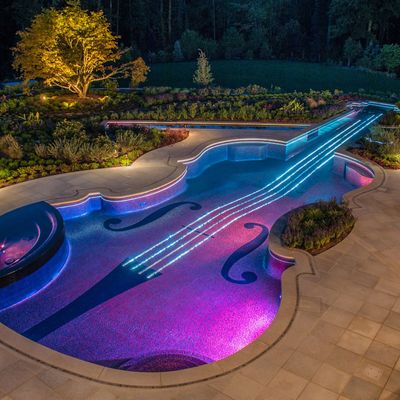 You didn't even know you wanted this.
Bloomberg's Max Abelson has a masterful look today at ex-bankers dedicating their second acts to making people hate them even more. "The idea is to improve quality of life using technology," says Jay Dweck, previously of Goldman Sachs and Morgan Stanley, about his new company, Live Better Systems LLC, with which he hopes to spread the good word about the luxuries available out there in the pool and shower spaces, and beyond.

Like his $1 million, Stradivarius-inspired, swimming-and-koi-pond combo, complete with 5,600 fiber-optic cables as light-up strings and a current system for kayaking. He hopes to one day program it to play along to music, like Guitar Hero.

"Lots of people have that money," Dweck tells Bloomberg of the $3 million renovation to his own Westchester home. "They're willing to spend it on, to me, much more frivolous things." Let this guy show you how it's done.