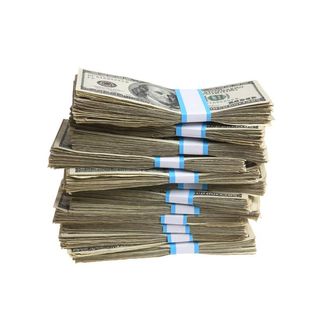 Photo: D. Hurst / Alamy/? D. Hurst / Alamy
For the last three weeks, Palo Alto–based real estate developer and investor Jason Buzi has been hiding envelopes full of cash — a total of $10,000 to $15,000 in increments of $250 or so — around California and then tweeting clues about their locations under the handle @hiddencash. Buzi was doing this anonymously until Friday, when he was outed by Inside Edition, but it seems that the publicity isn't going to stop him from expanding his project. On Tuesday, @hiddencash announced that the lucrative scavenger hunt and "social experience for good" is coming to Houston, Las Vegas, Mexico City, Chicago, and, yes, New York City this weekend.
The thing about offering the public free money is that there are a lot of potential takers. There are now almost half a million people following @hiddencash for instructions on how to join hundreds — maybe thousands! — of their fellow city-dwellers as they converge on a single spot in search of a limited number of prizes. In late May, a Burbank mall began to resemble the scene of a riot after a huge crowd showed up to look for Buzi's cash. NBC News also points out that Buzi pulled a similar stunt in New York six years ago as promotion for a video-sharing website. It ended with an actual riot that had to be broken up by the police:
Of course, that's probably not going to stop anyone who intends to play the game this weekend from doing so. But, just in case it gets dicey out there, participants should remember Buzi's own words: "Hidden Cash is not going to save you, the lottery is not going to save you," he told the Huffington Post. "Be smart and responsible and research all the ways to make money that are out there." That's how you become wealthy enough to afford the pleasure of watching strangers run around town searching for some tiny percentage of your income.