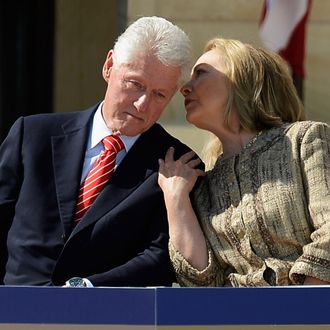 Mr. and Mrs. Moneybags.
Photo: Kevork Djansezian/Getty Images
The Mitt Romneyification of Hillary Clinton continues today with an in-depth look by the Washington Post at the $104.9 million Bill Clinton alone has made giving speeches since leaving the White House in 2001. Although the family's recent financial success has been no secret, it's come in for enhanced scrutiny since Hillary said, factually but with little tact, "we came out of the White House not only dead broke, but in debt," and then attempted to differentiate them from the "truly well off." As the breakdown of Bill's subsequent paydays demonstrates, they also came out with people ready to throw millions of dollars at them for minimal work, right away.
The ex-president's first paid speech came about two weeks after the inauguration of George W. Bush, in front of Morgan Stanley Dean Witter bond traders at a golf resort, and paid $125,000. From there, it just never stopped: The Post reports that Bill gave 542 speeches through January 2013, when Hillary stepped down as secretary of state. That's a speech — some worth over a million each — about every eight days.
Maybe riskier for Hillary in 2016 is to whom he spoke: "The majority of his speaking income, $56.3 million, came from foreign speeches, many of them in China, Japan, Canada and the United Kingdom," the Post reports. "Goldman Sachs has hired Bill Clinton for eight speeches over the years totaling $1.35 million." Then there are his shadier business dealings, like becoming the face of a for-profit college.
Hillary, meanwhile, has earned some $5 million for her speeches since leaving public office, and then there are the books and investments for both of them. (The Clintons' speaking fees are sometimes donated to their Global Fund.) But in attempting to explain her "inartful" comments about money, Hillary has started to invoke working as a senator "to bring new jobs to New York and stand up for the people I represented." It's a relevant deflection — Bill is using it now, too — and one we're likely to hear a lot in the coming years now that the out-of-touch narrative has crystallized among some media (and Republicans). Luckily for Clinton's budding campaign, she has some time to perfect it, although she probably shouldn't wait too much longer.