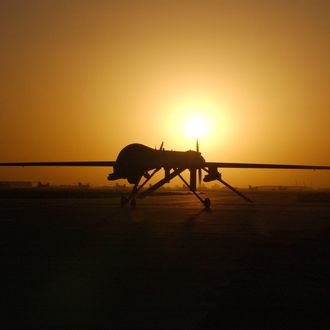 Photo: Rob Jensen/USAF/Getty Images
On the same day that American military advisers began arriving in Iraq to help the country fight off Islamist militants, the New York Times is reporting that Iran has also sent advisers to its neighbor, along with drones and other military supplies. The number of Iranian personnel is smaller, with only 12 Quds Force officers advising the Iraqi military, but the country is making up for the lack of man power with machine power. Operating from Rasheed Air Base in Baghdad, Iran is flying surveillance drones and operating equipment to intercept ISIS communications. 
As Iran and the United States continue their non-alliance against the same enemy in Iraq, a third, even more unwelcome partner has emerged in the fight against ISIS. Yesterday, Syrian war planes reportedly targeted small border towns under ISIS control, and in keeping with its military strategy at home, killed dozens of civilians.