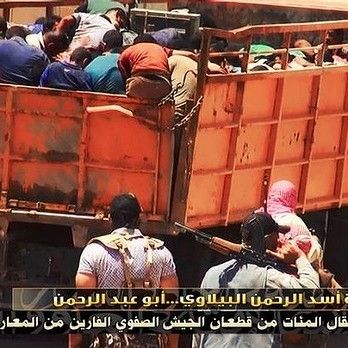 The Islamic State in Iraq and Syria, the Sunni extremist group threatening to overtake Iraq, has posted grisly photos that appear to show the mass execution of government soldiers. In the images, masked fighters threaten and stand guard over dozens of frightened-looking young men, load them into trucks, and force them to lie face down in a ditch with their arms tied behind their backs. Some pictures show the bloody, lifeless bodies of the captives after they have been shot. 
From the New York Times: 
The photographs showed the executioners flying the ISIS black flag, with captions such as "the filthy Shiites are killed in the hundreds," "The liquidation of the Shiites who ran away from their military bases," and "This is the destiny of Maliki's Shiites," referring to Prime Minister Nuri Kamal al-Maliki.

Many of the captions were viciously mocking toward the purported victims. In one photograph, showing 25 young men walking toward an apparent execution site, where armed, masked men awaited, the caption read, "Look at them walking to death on their own feet."
The Associated Press reports that the photos' captions don't include dates or locations. But Iraqi military spokesman Lieutenant General Qassim al-Moussawi said the pictures were authentic and that the killings depicted in them took place near the city of Tikrit, which ISIS captured last week. 
An ISIS Twitter account claimed that 1,700 soldiers had been killed, though that figure might be exaggerated. "We're trying to verify the pics, and I am not convinced they are authentic," Human Rights Watch researcher Erin Evers told the Times. "As far as ISIS claiming it has killed 1,700 people and publishing horrific photos to support that claim, it is unfortunately in keeping with their pattern of commission of atrocities, and obviously intended to further fuel sectarian war." 
Meanwhile, the AP reports that the Iraqi authorities have blocked access to Facebook, Twitter, and Youtube, partially in order to prevent militants from using social media to disseminate similar pictures and other propaganda.