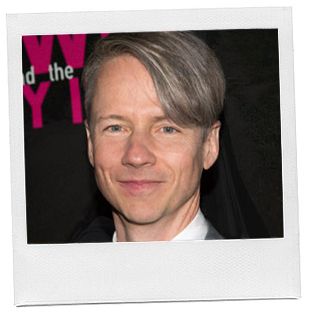 Photo: Mike Pont/Getty Images
Name: John Cameron Mitchell
Age: 51
Neighborhood: West Village
Occupation: Writer, Actor, Director, Producer. Tonight you can catch him alongside Denis O'Hare in A Good Read, a reading series he curates at Joe's Pub.

Who's your favorite New Yorker, living or dead, real or fictional?
John Cassavetes. He was my hero: A scrappy New York actor who was the punk-rock filmmaker of his age. A Woman Under the Influence is probably my favorite film.


What's the best meal you've eaten in New York?
Probably the good old 4-market sides at Westville. Good, honest, healthy food!

In one sentence, what do you actually do all day in your job?
Depends if I'm writing, directing, producing, acting, or depressed.

What was your first job in New York?
I was the understudy for Huck Finn in Big River on Broadway, when I was 21. They had no dressing rooms for us, so the understudies hung out in the Chinese restaurant next door. We sat at the bar, the older understudies getting steadily more soused as the night wore on, and I'd take breaks out on the Siamese pipe in front of St. Malachy's Actor's Chapel across the street. I felt like one of the male hookers who loitered in front of the fire station around the corner on Eighth Avenue. You couldn't tell them from the firemen, everybody just waiting around for a fire to put out.

What's the last thing you saw on Broadway?
The Realistic Joneses. Fascinating and moving.

Do you give money to panhandlers?
Certain ones. New York panhandlers are like celebrities. Everyone knows them but they don't always recognize you. And they're as respectful and hard-working as any New Yorker (the unpredictable SF ones might cut you with a Gillette).

What's your drink?
Coconut kefir. Gives you the most beneficial microbes.

How often do you prepare your own meals?
Never. There are CDs in my oven.

What's your favorite medication?
Ambien.

What is the best thing in or about your apartment?
It's rent-stabilized in the West Village. Got it in the last recession (1993). It was above the kitchen of a very loud Greek restaurant and I tried to get out of the lease, but thank God I couldn't. As my friend Lady Bunny said about her nearby rent-stabilized place, "I had no idea the apartment I procured in 1990 was the one I WOULD DIE IN."

What's the craziest thing you've ever seen on the subway?
Kindness.

When was the last time you stayed out past 3 a.m.?
My monthly Mattachine Dance Party at Julius Bar. Don't look for us on Facebook.

Which do you prefer, the old Times Square or the new Times Square?
Old! The Eros Skinema.

What do you think of Mayor de Blasio?
I'm hopeful.

What do you hate most about living in New York?
The expense, means fewer interesting people move here.

If you could banish one person from New York forever, who would it be?
Trump. He must've had his NYC birth certificate falsified.

When's the last time you drove a car?
A month ago in Colorado at Mom's. Just visiting. I believe I met someone on Grindr (Colorado Springs can be a bit grim queerwise. I've met more than a few Gay Republicans). We had a good time at the one hipster restaurant, the Rabbit Hole.

Finish this sentence: The NYPD _____.
… still rides horses!

Times, Post, or Daily News?
Times. I can't stomach the Post's politics and "Page Six" makes me feel like I should be on Twitter. (I ain't too social-media-connected. Takes too much time.)

Where do you go to be alone?
I won't be alone there if I tell you.

What makes someone a New Yorker?
Three years and an official ass-kicking.