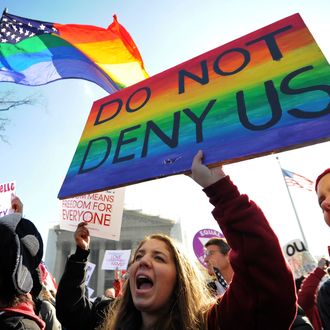 Photo: JEWEL SAMAD/AFP/Getty Images2013 AFP
In another variation of what is, happily, becoming a familiar story, U.S. District Judge Barbara Crabb struck down Wisconsin's same-sex marriage ban on Friday. "This case is not about whether marriages between same-sex couples are consistent or inconsistent with the teachings of a particular religion, whether such marriages are moral or immoral or whether they are something that should be encouraged or discouraged. It is not even about whether the plaintiffs in this case are as capable as opposite-sex couples of maintaining a committed and loving relationship or raising a family together. Quite simply, this case is about liberty and equality, the two cornerstones of the rights protected by the United States Constitution," Crabb wrote. There are now 27 states where a judge has ruled that gay couples should be allowed to marry.
After some initial confusion about whether the ruling meant that weddings could begin immediately, clerks in Milwaukee and Madison began issuing marriage licenses to gay cheeseheads at around 5 p.m. "I have been waiting decades for this day to finally arrive and we won't make loving couples wait longer than they want to get married," explained one local official. Elsewhere, Republican Wisconsin Attorney General J.B. Van Hollen called Crabb's decision a "setback," and vowed to appeal it.
Meanwhile, seven couples filed a federal lawsuit challenging the same-sex marriage ban in North Dakota, making it the last state in the country to be sued over adults' rights to marry other adults.