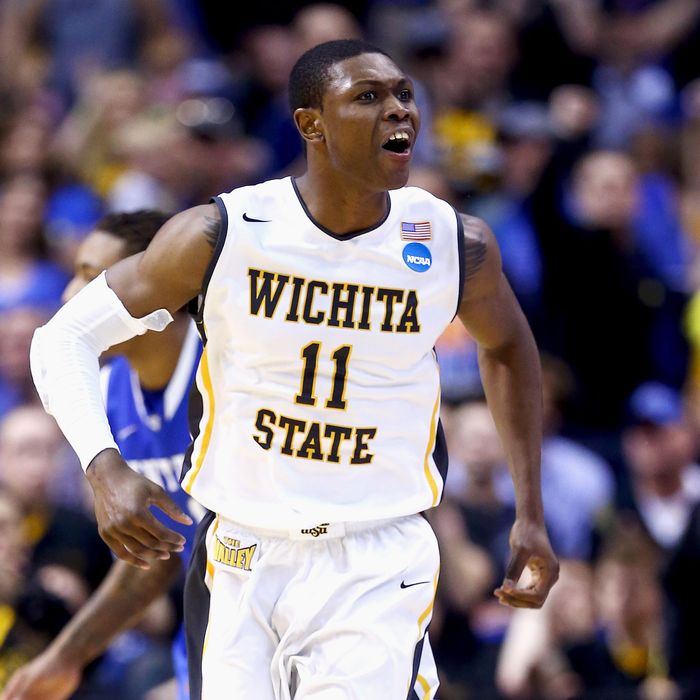 Cleanthony Early.
Photo: Andy Lyons/Getty Images
As of just two days ago, the Knicks didn't have a single pick in this year's NBA Draft. But on Wednesday, Phil Jackson traded Tyson Chandler and Raymond Felton to Dallas for a package that included two second-round picks, and by the time all the selections were made last night, Jackson had guided the best Knicks draft in two decades and orchestrated the night's best pick. The Dallas trade yielded the 34th and 51st overall picks, both in the second round. But in such a deep draft, those second-round picks were gold to Knicks brass, and with the first of them, they landed the steal of the draft in Wichita State's Cleanthony Early.
Wichita State entered the NCAA tournament undefeated last season, the first team to accomplish that feat since 1991, and Early played a significant role in the Shockers' success. A former junior-college player of the year, Early was underrecruited because he purposefully wanted to play his juco ball close to home. WSU has a history of successfully coaching junior-college players, and Early was arguably the team's most explosive player, a six-foot-eight small forward who could stroke from deep, and punish teams inside either on drives or on the offensive boards. Meanwhile, he has the skill set to be a lockdown Kawhi Leonard–esque defender. Despite averaging double digits in both his NCAA seasons and notching 31 points against Kentucky in the second round of the NCAA tournament (arguably the tourney's best tilt), Early was passed over until the Knicks (quickly) announced their pick.
Most draft experts slotted Early at the end of the first round, but when Washington's CJ Wilcox and Stanford's Josh Huestis were taken with the 28th and 29th picks, respectively, it was clear that Early was free-falling. Wilcox and Huestis are fine players, but there was no way the duo should have been taken before the Shockers forward.
So how did Early slip to the Knicks? There were concerns about his age — he is 23, and scouts are typically leery of taking players who are significantly older than their graduating class — and about whether he could transform into a NBA-level 3- and D-player (which is to say, one who shoots threes and defends well). Early was also a high-volume player at WSU: His usage rate, which measures how often he is involved in the team's possession, hovered near 30 percent in both his seasons at Wichita State (well above his teammates' rates), which was seen as a red flag, one that was significant enough to scare late first-round teams away.
The same bias that dogged Wichita State all season may have also been applied to Early. The Shockers, who play in the Missouri Valley Conference, entered the NCAA tournament undefeated, but were continuously undercut by silly claims that their competition wasn't BCS-conference caliber. And so Early may have also been penalized for not playing in a high-major conference.
But Knicks fans shouldn't worry about Early's so-called faults. He showed the ability to step out and hit from three consistently, and he has the wingspan to be a lockdown defender, two skills that translate just as well if you are playing against Loyola Chicago, Kansas, or the Miami Heat. The last player who possessed Early's talents but was knocked for playing in a smaller conference was Leonard, and even though the reigning Finals MVP was picked in the middle of the first round, he would be the second overall pick if the 2011 draft was redone today.
High off the success of their first pick — the best choice the Knicks have made since Ernie Grunfeld drafted Charlie Ward in 1993 — Jackson and his cohorts made a bold choice with their second selection, drafting Thanasis Antetokounmpo, the brother of Milwaukee's Giannis (a.k.a. the Greek Freak), who is raw but worth the gamble as a defensive specialist. Thanasis spent the year in the NBA's Developmental League, and while Derek Fisher won't set any plays for Thanasis within the next few years, he and Early have the potential to be supreme wing defenders, the type of players who give the LeBrons of the NBA fits each possession. Early will not seamlessly slide into Anthony's spot if the perennial All-Star decides to leave New York, as he'll never rival Anthony as a scorer. But Early and eventually Antetokounmpo are the type of players who will earn significant minutes because of their aggressiveness and physicality on the court.
The Knicks' third addition last night — Louis Labeyrie, secured via a trade with the Indiana Pacers after being taken 57th overall — will be stashed in his native France and might never step foot in the States (the Knicks history with French prospects is less than stellar). But with the selections of Thanasis and especially Early, Jackson upgraded his roster in a big way, drafting players who can immediately be slotted into the rotation. Yes, the ghosts of Dontae Jones, Renaldo Balkman, and Frederic Weiss will forever haunt diehard Knicks fans, but in his first draft as Knicks president, Jackson made brilliant choices — the types of moves that executives like Ric Buford and Daryl Morey are consistently praised for.
There were rumors the Knicks might try to move into the first round, but Jackson didn't panic, rather scanning the draft board, waiting out the deluge of European picks (like Damien Ingles of France, who was taken by the Bucks but will be stashed overseas to gain more experience) and then pouncing when Early slid. Already a maestro when he was on the sidelines, Jackson showed that same touch last night in his first draft as an executive.