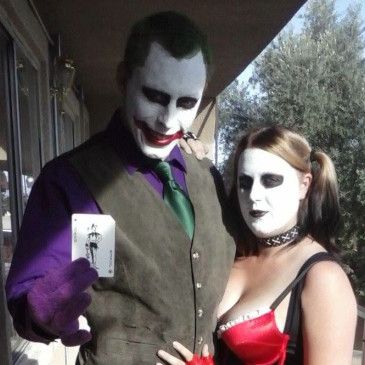 Late Sunday morning, a man and a woman identified as Jerad and Amanda Miller barged into a Las Vegas restaurant called CiCi's Pizza, shouted "This is a revolution!" and fatally shot two police officers who were having lunch. The pair stripped the officers of their weapons and ammunition and covered their bodies with a swastika and a Gadsden flag (that's the one with the coiled snake and the words "Don't Tread On Me"). They then took off for a nearby Walmart, where they shot and killed Joseph Robert Wilcox as he attempted to confront them with his own gun. After exchanging gunfire with the police, the Amanda shot her Jerad and then herself in what was described as "an apparent suicide pact." 
"What precipitated this event, we do not know," Sheriff Douglas Gillespie told reporters after the attack. However, neighbors told the Las Vegas Sun and the Las Vegas Review-Journal that the couple was known for talking about their racist and anti-government views, and bragging about their  ties to libertarian hero and fellow racist Cliven Bundy. They also liked to dress up Batman villains the Joker and Harley Quinn, as you can see in the photo above. 
Brandon Moore, who lived in the shooters' apartment complex, told the Sun that, "They were handing out white-power propaganda and were talking about doing the next Columbine." Another resident, Sue Hale, said that the two told her that they'd gone to Bunkerville, Nevada, to support Bundy during his infamous standoff with the authorities over his insistence on grazing his cattle on federal land without paying for it. 
"All Jerad wanted to do is talk about overthrowing the government," Kelly Fielder, a friend of the couple, told the New York Times. "I thought he was talking smack."
It turns out that an NBC affiliate interviewed Jerad during the Bundy demonstration: "I feel sorry for any federal agents that want to come in here and try to push us around or something like that," he said. "I really don't want violence toward them, but if they're going to come bring violence to us, well if that's the language they want to speak, we'll learn it."
A third neighbor said that Jerad claimed to have been kicked off of Bundy's ranch. In a Goggle Plus post attributed to him, he explained:
"I was out there but they told me and my wife to leave because I am a felon," he wrote. "They don't seem to understand that they are all felons now for intimidating law enforcement with deadly weapons. So don't tell you that they need people. We sold everything we had to buy supplies and quit our jobs to be there 24/7. How dare you ask for help and shun us dedicated patriots!"
In a YouTube video said to have been made in July 2013, a Jerad tearfully professes his love for Amanda and suggests that they'll do something to end up in prison soon. "I love you so much," he said. "I'm going to miss your smile and your laugh and the way you can always bring a smile to my face, eventually, no matter how crabby of a mood I'm in, cause of the new world order and shit." He continued, "Every night I'm just going to imagine that you're just lying there next to me, that I'm holding you…Then I'll wake up pissed off because I know I'm in jail."
The day before the shootings, Jerad wrote on Facebook, "The dawn of a new day. May all of our coming sacrifices be worth it."
When reached for comment, Bundy's wife, Carol, told the Review-Journal, "I have not seen or heard anything from the militia and others who have came to our ranch that would, in any way, make me think they had an intent to kill or harm anyone." They were just pointing those big guns at people for fun.
This post has been updated throughout.