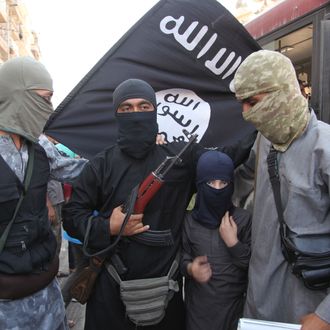 On Tuesday night, the Islamic State of Iraq and Syria attacked Baquba, an Iraqi town just 44 miles north of Baghdad, and at least 44 Sunni prisoners died. There are conflicting reports about how this happened, and the explanations from people who were present for the fighting show signs of sectarian violence.
Iraq's military spokesman, Lieutenant General Qassim al-Moussawi, told reporters that the men were killed when the police station where they were being held was shelled by the Sunni militants. However, three local policemen told the Associated Press that Shiite militiamen shot the detainees, who were suspected of having ties to ISIS, as the militants tried to free them. Meanwhile, a "police source" from Baquba told the New York Times that the prisoners were executed by the police when ISIS attacked. "Those people were detainees who were arrested in accordance with Article 4 terrorism offenses," he said. "They were killed inside the jail by the policemen before they withdrew from the station last night." Officials from the morgue in Baquba told both the Times and the AP that most of the dead prisoners had bullet wounds in their heads and chests. 
The Times also reports that bodies of four young men were found dumped in the streets of a Shiite area in Baghdad. The men, who are believed to be Sunni, had all been shot to death. On Friday, Iraq's top Shiite cleric, Grand Ayatollah Ali al-Sistani, called on Shiites to form militias to fight the Sunni extremists making their way through the country, as has Prime Minister Nuri Kamal al-Maliki.