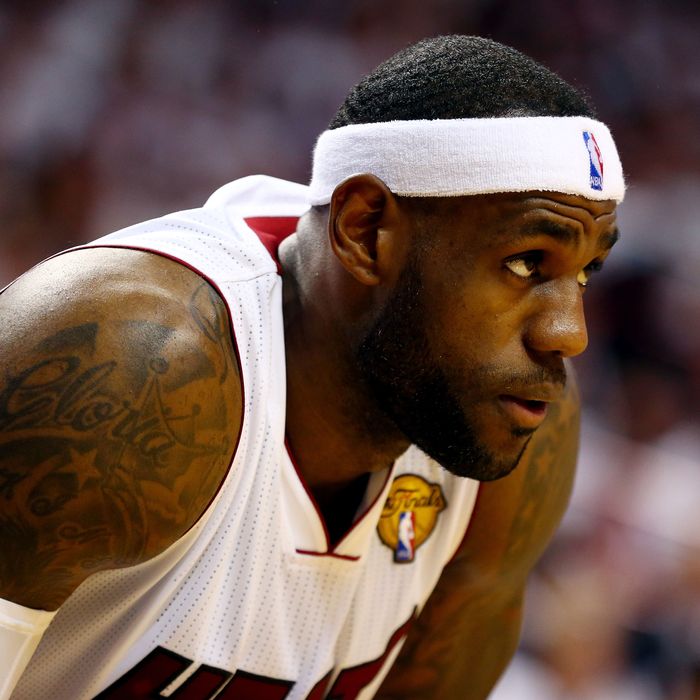 LeBron James.
Photo: Andy Lyons/Getty Images
LeBron James has informed the Miami Heat that he'll opt out of his current contract and will become a free agent on July 1. But unlike James's free agency four years ago — when he famously took his talents to South Beach and prompted history's greatest use of Comic Sans — he won't necessarily find himself wearing a different uniform when the 2014–15 seasons begins. And even if he does, the Knicks and their salary-cap issues would be a long shot to land him.
LeBron's decision to opt for free agency isn't a shock: Doing so will allow him to sign a longer contract for more guaranteed money. It's a smart move for a player still in his prime, looking to lock in as much money as he can, as soon as possible. It's at least part of the reason Carmelo Anthony opted out of the final year of his deal, and why overpaid players like Amar'e Stoudemire and Andrea Bargnani (who wouldn't be offered monster contracts as free agents) opted in.
James may very well stay in Miami: He could simply be putting pressure on the Heat, who lost in the finals to San Antonio, to improve their roster. Dwyane Wade and Chris Bosh can opt out of their contracts, too, and if they do, the Heat would have the flexibility to sign some combination of those players and others, and to potentially structure those contracts in a favorable way. If LeBron likes what the Heat want to do, he can sign another long-term deal in Miami — which could include an opt-out clause to do this all again in a few years.
But here's the bad news for Knicks fans: Even if LeBron really does test the market — even if this turns into the Summer of LeBron II, with teams pitching the four-time MVP and begging him to sign — salary-cap woes will almost definitely prevent the Knicks from making a run at James. Via Ian Begley of ESPN New York, the Knicks would have to clear about $28 million in cap space (before re-signing Carmelo) to sign LeBron. Knicks president Phil Jackson could try to clear space, but that's unlikely, given how toxic some of their contracts are. Donnie Walsh spent years creating the cap space he'd have needed to sign LeBron in 2010. Don't expect Jackson to be able to do the same in a matter of weeks.
Under the NBA's salary-cap rules, the Knicks can offer Anthony $129 million over five years, while other teams can offer $96 million over four. Jackson's pitch to Anthony surely includes the fact that the team will have increased roster flexibility next summer. Anthony has reportedly even discussed the possibility of taking less from the Knicks if it will allow them to sign additional free agents. But if LeBron decides to leave Miami and sign elsewhere, it could have a ripple effect: Teams looking to sign him could try to pair him with another star (like Carmelo) to create the most attractive situation possible. Teams with cap space that fail to sign James might also try to use that money to sign Anthony as a sort of consolation prize.
Knicks fans who still dream of seeing LeBron play his home games at Madison Square Garden likely have to hope for the following scenario (as envisioned by ESPN's Ohm Youngmisuk): James signs a one-year contract with the Heat and becomes a free agent again next summer, when the Knicks will have cap space available. For what it's worth, the offer to name a sandwich after him probably still stands, too.