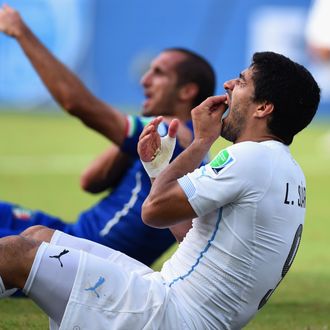 Photo: Matthias Hangst/Getty Images
When Uruguay's Luis Suárez appeared to sink his teeth into the shoulder of Italian defender Giorgio Chiellini in yesterday's World Cup match between the two soccer powers, ESPN broadcaster Stewart Robson said, "Oh, dear. Oh. Oh, dear, dear, dear … It looks to me, dare I say it, that he's had a little bite at Chiellini."
As shocking as it is to see a grown man bite another in the middle of a sporting event, Robson wasn't shocked. Stunned maybe, but certainly not shocked, because Suárez has done this twice before. This time, FIFA has launched an investigation into the bite, and given Suárez's history and the severity of the crime, the Cannibal, as he was known in the Netherlands after his first biting incident, could face severe punishment, including a ban from the rest of the World Cup. 
That's certainly what the British press wants. It's what Chiellini and his scarred shoulder want. It's what the fans on the streets of London want. But for some, it's not enough. Former England International Paul Scholes said the ban should be longer since Uruguay could lose its very next game anyway. Former USMNT forward and current ESPN broadcaster Taylor Twellman went further, calling for FIFA to suspend Suárez for life. That won't happen, as FIFA's disciplinary code allows for a maximum two-year ban.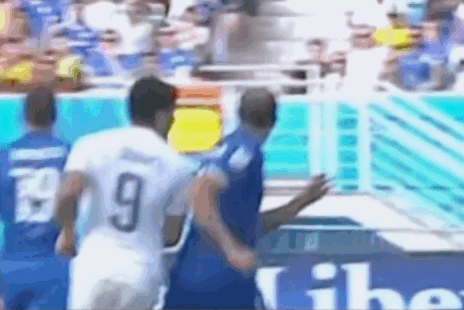 The near united front against Suárez does not extend to Uruguay, where his teammates and countrymen have been quick to defend the insatiable striker. "In our view, the TV images are not clear and you can't see Suárez biting Chiellini's shoulder," broadcasting company Tenfield said. Uruguay captain Diego Lugano shifted the blame to Chiellini, who pulled down his jersey after the bite to show the referee the marks. "I've just watched the TV images and I didn't see anything. What I saw was a struggle and a photo of Chiellini which showed an old scar. You have to be stupid to imagine that scar is recent, very stupid," Lugano said.
For his part, Suárez brushed off the incident. "These are just things that happen out on the pitch," he told Uruguay's Channel 10 after the match. Not that he was admitting to the bite. "It was just the two of us inside the area and he bumped into me with his shoulder," he said. And Suárez just happened to be daydreaming about eating a Dagwood sandwich at the very moment of the bump.