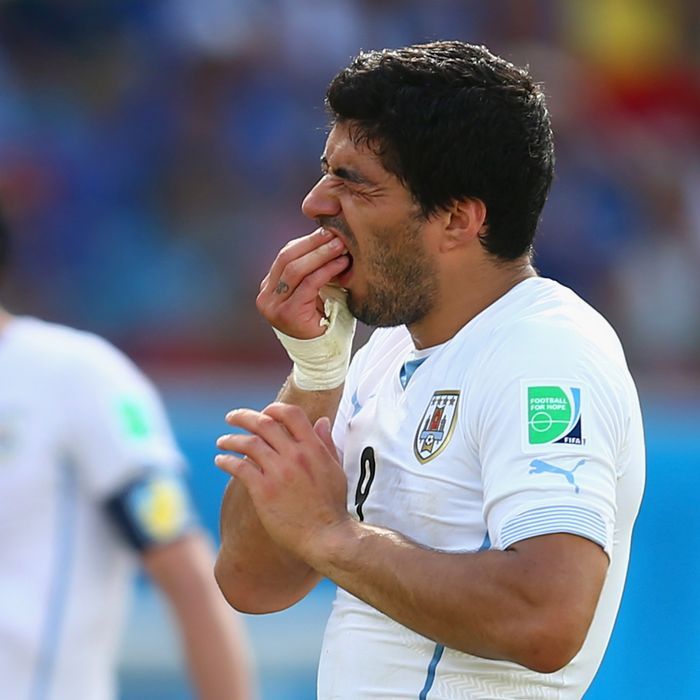 Luis Suárez.
Photo: Clive Rose/Getty Images
FIFA has suspended serial biter Luis Suárez for nine Team Uruguay matches and banned him from taking part in any sanctioned soccer-related activity for four months. The suspension comes two days after Suárez bit an Italian player during an Uruguay victory that pushed them into the World Cup's knockout round. It's the third time (!) that Suárez has been suspended for biting an opponent.
If you were wondering which specific FIFA bylaws Suárez violated by biting a guy on the shoulder during a match, it's art. 48 par. 1 lit. d of the FIFA Disciplinary Code (which prohibits assault), as well as art. 57 (which prohibits "an act of unsporting behavior towards another player").
The ban was the longest one ever handed out during the World Cup for an on-field act. He'll miss not just the remainder of the World Cup (no matter how far Uruguay advances) but also the first 13 matches of the season for Liverpool, his club team in the English Premier League. Suárez was also fined and banned from the stadium during Uruguay's matches.
Uruguay plays Colombia in the Round of 16 on Saturday.