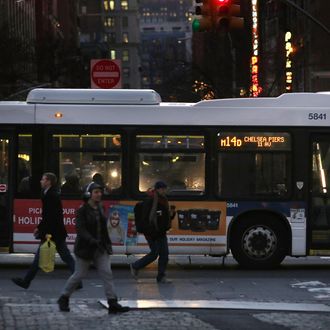 Photo: Spencer Platt/2012 Getty Images
In the very early hours of Monday morning, Nickolas Ellias stole an empty MTA bus that was found parked at Staten Island's St. George Ferry Terminal. He managed to drive it over a mile and a half, getting within two blocks of his house, before he was pulled over and arrested. The man who identified himself as the 20-year-old's foster father wasn't surprised: "He tried stealing a bus before, but the police caught him just in time," Santiago Rivera told the New York Daily News. "He's obsessed with buses." Ellias's friend confirmed that he is, in fact, "obsessed" with the lumbering vehicles, and that he often hangs around the transit complex where the theft took place. 
According to a police source, Ellias's explanation for the joyride was as straightforward as those of the people who know him. "I want to be a bus driver," he told the cops. "I was going to return the bus when I was done." Still, the Staten Island District Attorney has charged him with grand larceny and ordered him held on $10,000 bail. Ellias is said to suffer from "mental health issues," and his behavior is pretty similar to that of Darius McCollum, a transit-obsessed New York City man with Asperger's who has spent a combined 18 years in prison over his tendency to "borrow" his beloved MTA trains and buses. It's too bad that the city can't show a little leniency toward the people who simply love its public transportation options too much, if only because everyone else spends so much time complaining about them.