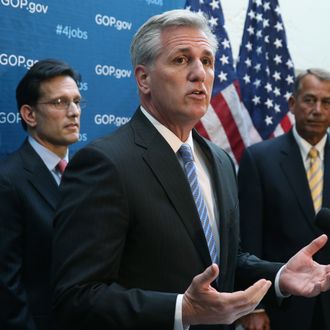 You may know him as that guy who stands behind John Boehner that isn't Eric Cantor.
Photo: Mark Wilson/2014 Getty Images
Current Majority Whip Kevin McCarthy is now the only candidate running to replace Eric Cantor as House majority leader after Representative Pete Sessions announced he was dropping out of the race on Thursday night. Cantor will resign as majority leader on July 31, and his successor will be elected on June 19. McCarthy was already considered the favorite by far, but the California Republican can't start celebrating just yet. Representative Raúl Labrador told the Washington Post that he's considering entering the race, and will announced his decision tomorrow. Labrador is a tea-party favorite who was elected in 2010, and would likely argue that McCarthy is insufficiently conservative. McCarthy's aides told Politico they've already locked up plenty of conservative support, but dismissing the tea-party challenger would be unwise in light of recent events.
McCarthy is part of the trio of GOP lawmakers known as "the Young Guns," but he's always been overshadowed by Cantor and Paul Ryan. The Post explains that if they were a rock band, McCarthy would be "the drummer in the background — well-liked, doing hard work, but a bit out of focus on the magazine cover." He was elected to the House in 2006, which would make his rise to the majority leader position the fastest in congressional history.
He's served as majority whip since 2011, and after questions arose about his effectiveness as whip a year ago, he launched a strategy to consolidate his power. Per the Post:
He continued building personal relationships within the sprawling 233-member Republican Conference, deploying every networking tool at his disposal — small dinners, workouts in the House gym, long bike rides up the C&O Canal towpath. Almost no lawmaker was left unattended, including those who had been cast aside by past leaders.

"He's a savant of relationships," said Rep. David Schweikert (R-Ariz.), a former member of leadership in the Arizona state legislature. "He's better at it than almost anyone I've ever seen."
So, it sounds like his meteoric rise can be attributed to bonding with his co-workers. Real life House of Cards sounds pretty boring, so feel free to speculate about which members of Congress he's blackmailing.