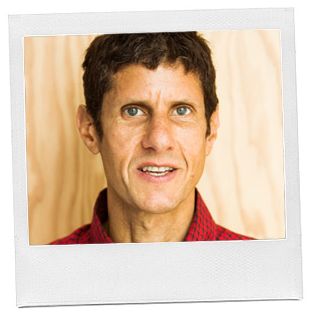 Name: Mike Diamond, a.k.a. Mike D
Age: 48
Neighborhood: Cobble Hill
Occupation: Musician, producer, designer, curator at large, dad. Guest editor, Monster Children magazine #43, which you can pick up on newsstands now.
Who's your favorite New Yorker, living or dead, real or fictional?
Bella Abzug.


What's the best meal you've eaten in New York?
My pretentious answer: I went with a large and eclectic group of friends to Brooklyn Fare within the first six months or so of them opening. They didn't have a liquor license yet so it was BYOB, which was great because there were several wine directors amongst us. We booked the whole spot and it was just a phenomenal night of incredible food and people.
In one sentence, what do you actually do all day in your job?
Depends who I am that day. I might just be in a recording studio, or collaborating with people, or building something … it depends.
What was your first job in New York?
I worked at the Drama Book Shop in Times Square right after high school. I was bottom of the ladder: restocking, shipping and receiving, schlepping associate — you name it. Not too long after starting the band, we got our very first bit of money so I was able to quit. Happy day!

What's the last thing you saw on Broadway?
I am scared of sitdown theatre. Seriously.

Do you give money to panhandlers?
Not so often, but once in a while, yes. No set system here.

What's your drink?
I'm a Burgundy person. This can lead to almost tearfully beautiful experiences but also to a lot of disappointment and heartbreak. Burg is like real life or art, when it is on, it is beyond words, but it is often not because it can be fragile.
How often do you prepare your own meals?
Often, at least a few times per week. Usually just basics for me: steamed or sautéed greens, quinoa, maybe baked tofu or salad. Almost all plant-based when I eat at home.
What's your favorite medication?
Elusively good Burgundy.
What is the best thing in or about your apartment?
A lot: That my boys have their zone and I have mine. The backyard. My bathroom. The neighborhood.
What's the craziest thing you've ever seen on the subway?
Wow, that is a tie. One time when I was a young teen riding the A Train back uptown, this big crazy-looking dude gets on the train, sweating, takes off his T-shirt, wraps it around his hand, and starts to try to punch out all the windows, but it's not like they break easy. The tie is actually Adam Horovitz's story that he was on a train with two bums fucking in between the cars.
When was the last time you stayed out past 3 a.m.?
A few months ago, but I was working in the studio. Does that count?
Which do you prefer, the old Times Square or the new Times Square?
I def don't mess with the new Times Square, but I didn't really mess with the old one either. But if I had to pick one I would go for the playland, arcade era.
What do you think of Mayor de Blasio?
I am keeping an open mind, he does rep the BK.
What do you hate most about living in New York?
Winter. Also the hassle of getting or carrying stuff from one place to another. I mean, sometimes I do wish I could just drive to a store with parking in front, etc. But that wouldn't be NYC.

If you could banish one person from New York forever, who would it be?
Tough question … Isiah Thomas? I mean, he f-d the Knicks up so bad.

When's the last time you drove a car?
Today. I drive pretty often, getting boys to basketball practice and games all over Brooklyn and Queens. Plus quick runs to Rockaway, Long Beach, or Montauk when waves are good, and the occasional shop mission.

Finish this sentence: The NYPD _____.
Were there for us after Hurricane Sandy. For real.

Times, Post, or Daily News?
Depends on my mood and day. Most often none of the above.

Where do you go to be alone?
That's one of the things I love about being a New Yorker. Almost every day I walk around listening to music with my headphones, and yeah, I am amongst many others but I feel totally alone with my thoughts, observations, and emotions.

What makes someone a New Yorker?
Anyone who has spent some time living, experiencing, and observing life in the city. Before long, everyone develops their own theories on what is happening in front of them, applying some kind of order to the chaos.