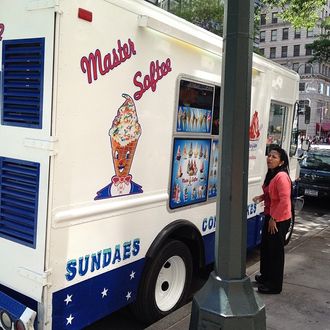 Photo: feiticeira/Instagram
Summer! Ice cream! The timeless Mister Softee logo and annoying jingle! At first glance, everything looks fine — delicious, even — but look closer.
That's a Master Softee truck. With an a. Master. Instead of "The Very Best," Mister Softee's slogan, this one boasts, "The World's Best." Instead of a cake cone, the logo is a waffle cone (with rainbow sprinkles). The bow tie has rounded edges. The smile is more mischievous.
Last summer, the real Mister Softee sued the rogue impostor fleet, headed by its former franchise-owner Dimitrios Tsirkos. "It is obvious that [Tsirkos] adopted his truck designs with the object of achieving an appearance similar to plaintiff's Mister Softee trucks," wrote Judge Laura Taylor Swain in a decision last week. "The trucks are designed to appeal to children, who are relatively unsophisticated consumers." She ordered them to stop taking advantage of kids' feeble minds.
And yet the Daily News spotted the Master Softee crew in Manhattan and Queens over the weekend, as did some eagle-eyed customers:
In the ice-cream truck turf war, knives and guns have been pulled before in the name of vigilante justice. "If you see a Mister Softee truck, you know bad things are coming!" warned a rival. That music can start to sound sinister. But let's not allow this thing to get out of hand. Fight the real enemy: frozen yogurt.