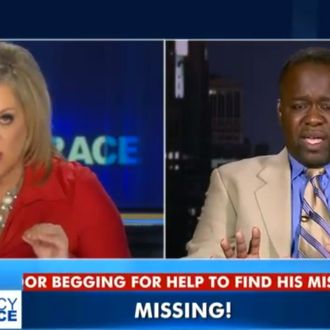 It doesn't get much more surreal than watching Nancy Grace freak out on a Detroit man seconds after telling him his missing 12-year-old son has been found in his basement. Live on national television.
"We're getting reports that your son has been found … in your basement," Grace informed Charles Bothuell IV on-air last night. The boy had been missing since June 14, the day before Father's Day. "What?" he replied, after some stunned silence and a dramatic exhale. "What?"
He muttered something that sounds like "Oh shit" under his breath. "I have no idea."
"Sir, did you check your basement?" an accusatory Grace asked. "I don't know why you guys would have reported him missing," she went on. "All our viewers have been on the lookout for him." (The hashtag #FindCharlie remained on the screen.)
"I checked my basement, the FBI checked my basement, the Detroit Police checked my basement, my wife checked my basement. I've been down there several times," Botheull said. "God, they brought dogs, everything. Everybody has searched." The local sheriff confirmed the boy was found alive and well, barricaded behind boxes and a five-gallon drum, but said it was unlikely he built the structure himself. The investigation is ongoing.
"Have you checked your cell phone?" Grace asked Botheull dryly. The man said his phone was dead. Nancy Grace was not happy.