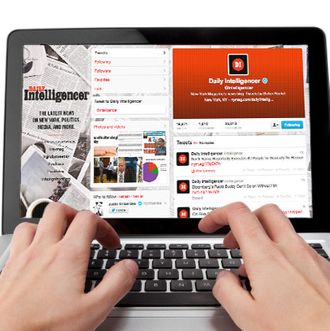 Welcome back to the New York Magazine Competition. On alternate Mondays, we lay out a challenge and offer a sample responses. Enter in the comments section, or on Twitter with the hashtag we've provided, and the editors will select a winner. Criteria are highly subjective, but heavily retweeted and favorited posts will have an advantage. The prize is a year's subscription to New York in print or a two-year subscription to the iPad edition (winner's choice). Full rules are here.
COMPETITION NO. 24: FIRST REACTIONS. 
Please suggest the initial remarks on a major occasion made by a noted figure. For example:
"David who?" —Eric Cantor
"How many pages do you think it'll be?"
—Robert Gottlieb, to Robert Caro
"Adorable. And look how much hair!"
—Fred Trump
Enter on Twitter with the hashtag #firstreactions, or in the comments thread on nymag.com's Daily Intelligencer, by June 25.
RESULTS OF COMPETITION NO. 23: ADD A LETTER, SPOIL A SNACK, in which you were asked to turn a treat un-tasty with the addition of a single letter.
HONORABLE MENTION TO:
Peanut Butter Hand Jelly 
—Tracybelindas
Lifer Savers 
—SABRA14 
Gummy Beards
—Feds1313 
Seal-salt caramels 
—biffers 
Harmburgers 
—KimBarget 
Plop Tarts 
—Irenedeblasio 
Odoritos
—jhartarl
Jamaican Rump Cake
—cleavage_rhombus 
Lady flingers
—@melissa_har
Wheat Things
—@Jeffurry312
Pie a la molde
— kay.w.graves
Prigs in a blanket
—Ninasphere 
Life Slavers 
—fcabarbie 
French Furies 
—jdoucette 
S'morte 
—BobKopac 
Creepes Suzettes
—onvacation
Gums 
—rmtmiller 
Tic Talc
—mcbooh
Donner kebabs
—CaptServo 
Crap'n Crunch
—@DannyGroner
Whoopie Piles
—@TheWallStBull
Doritoes
—@juelzc
Cheetoes 
—hoipolloi
Salmond Joy
—gianna13 
Maullomars
—Susiekey
Scronut
—ruiniste
Honey Bunches of Goats
—edubtv
Moron Pie
— FlirtySanchez
Lunchablehs
—liuiuliu
Funkyuns
—@SueDeNim
Tres leeches
—JDuggar 
AND THE WINNER IS:
Rice Krispie Threats 
—bigvolley