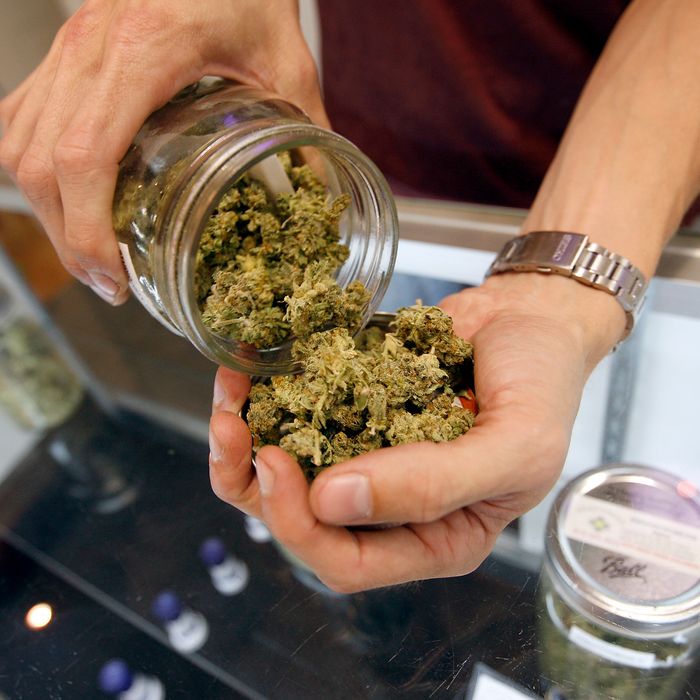 Photo: David McNew/2012 Getty Images
More than a year after medical marijuana was legalized in New York, the city's first dispensary will open its doors today just a few blocks from Union Square. The dispensary is run by Columbia Care, a health-care company that specializes in medical marijuana. Columbia Care CEO Nicholas Vita told the New York Daily News he wants patients to feel comfortable when they visit the facility: "People [will] know that this is their home," he said. "This is a place where they can come. We set it up so that it encourages community."
Despite its homey atmosphere, Columbia Care isn't messing around — its facility is strictly regulated, and anyone wishing to obtain a prescription must first navigate a maze of bureaucratic red tape. Dispensaries run by additional companies are planned for Murray Hill, Queens, and the Bronx, but right now Manhattan is the only option for New Yorkers who want to pull an Abbi Jacobson in Whole Foods. With that in mind, here's everything you need to know about Columbia Care's facility.
Where is it located?
At 212 E. 14th Street, near 3rd Avenue — prime tourist stomping ground.
Who's eligible to buy medical marijuana?
Only people diagnosed with epilepsy, multiple sclerosis, Lou Gehrig's disease, Parkinson's disease, Huntington's disease, neuropathies, spinal-cord injuries, cancer, and HIV/AIDS. The health commissioner has yet to decide whether to add Alzheimer's disease, muscular dystrophy, dystonia, post-traumatic stress disorder, and rheumatoid arthritis. Conditions can be added or removed at any time. 
"We will be providing products and services to a chronically ill patient that hasn't had a great deal of success relying on the standard of care," Vita told CNBC. "Part of our mandate is to provide the highest-quality products, services and information so patients can make the right decisions with their physicians."
How can New Yorkers get a prescription?
Patients will need to be certified by a doctor who is part of their continuing care, and who's registered with the state's medical-marijuana program. They'll receive an ID card, which they must carry at all times. Obtaining the certification will cost $50 per year, but the fee may be waived due to hardship. Terminal patients will qualify for certification that lasts until their death, and other patients can be certified for a year or less, depending on what their doctor recommends. The drug probably won't be covered by insurance plans, as it's still illegal at the federal level.
How many doctors in New York are eligible to hand out prescriptions?
The website MarijuanaDoctors.com lists only four doctors registered with the New York State Department of Health: one in Brooklyn, one in Elmhurst, and two in Manhattan. In theory, any doctor can become eligible to prescribe medical marijuana by completing a state-mandated online training course.
How long will visits last?
The first appointment will take an estimated 25 to 30 minutes. All subsequent appointments will take ten minutes or less.
How many people does the dispensary employ?
Four pharmacists will be on staff when the dispensary opens, but Vita expects to employ up to 20.
How will marijuana be grown and distributed?
The drug must be produced, manufactured, and distributed in New York State (though somehow, we doubt it will replace Greek yogurt as lawmakers' favorite locally made product). Five manufacturers were granted grow licenses by the state, and each is allowed to run four dispensaries. Legislators can increase those numbers later, if there's greater demand. The dispensaries can be for-profit or nonprofit, and guidelines will be developed to ensure that they're spread throughout the state.
There will be a 7 percent sales tax on the pot, and counties where the dispensaries are located will receive 22.5 percent of that revenue. Officials said they have no way of estimating how many people will buy the drug, or how much the state stands to collect in taxes.
What can patients buy? How much will it cost?
According to Vita, the first wave of patients will be able to purchase an eyedropper full of liquid marijuana they can drop under their tongue. These will cost between $100 and $300 each.
Why no smoking?
"We have spent billions of dollars in the effort to eliminate smoking, and it goes against all the wisdom of public health to turn our backs on all that we have done in this area," acting State Health Commissioner Howard Zucker said when the law was passed. He claimed edibles, oils, and vaporization can deliver marijuana just as effectively as smoking, but Gabriel Sayegh, the New York director of the Drug Policy Alliance, disagreed. "The cost of purchasing a vaporizer and the extract products will likely leave many low-income patients behind, and there is little research on the long-term health effects," Sayegh told the Daily News. He added, "The decision about the mode of administration for any medication should be left up to doctors and their patients."
Are there any other states that ban smoking?
Of the 22 states that have approved medicinal marijuana, Minnesota is the only one that bans smoking.
Could smoking medicinal pot still be added to the law?
While the health commissioner can change some parts of the program, expanding it to include smoking would require another vote by the Legislature.
Will it really be that hard for someone who's relatively healthy (aside from their, uh … debilitating insomnia and back pain) to obtain a prescription?
Yes, unless you know a doctor willing to risk spending four years in jail. The law will make prescribing marijuana for patients who don't qualify a felony. Anyone else who tries to sell or distribute medical marijuana can be charged with a misdemeanor.
So, when can the rest of us smoke legally?
Several New York legislators introduced a bill in 2013 that would have legalized recreational marijuana, but Cuomo's spokesperson called it a "non-starter." During the medical-marijuana debate, Cuomo described pot as a "gateway drug," citing the state's heroin and opiate prescription drug abuse problems, so it appears he's not evolving very quickly on the issue.
This post was originally published in June 2014. It's been updated with new information about the law and New York's first dispensary.