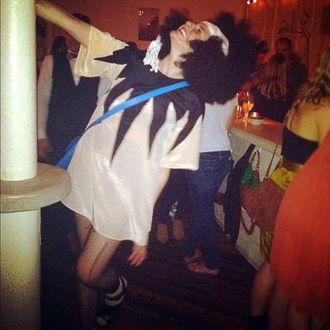 Photo: Courtesy of Michelle Joni Lapidos
When we last heard from former Vogue intern and throwback fameball Michelle Joni Lapidos, she was shrugging off the internet controversy surrounding her obliviously racial blog, Before and Afro. "I really feel bad that I've offended people. I don't feel bad for putting myself out there and doing something I believe in," she told the Cut about the stunt site, which saw her wear a big Afro wig to, for example, a fried chicken festival.
Today, she's back to show it gets better, landing in the New York Times for her latest project, a skipping club. "Not skipping rope, just the plain old 'Skip to My Lou' variety," the Times reports. 
Ms. Joni, a 29-year-old event impresario who lives in Park Slope, Brooklyn, said it all started last year when she spontaneously skipped on her way to a manicure (to combat the cold) and noticed how good it felt. A quick Facebook post elicited such positive feedback that by the end of the manicure, she knew what had to be done and started Michelle Joni's Skipping Club the following week.

"I curate a different adventure for each time," said Ms. Joni, dressed in a red cape, leopard-print stockings, fluorescent green glasses and other accouterments that matched the day's theme — skipping to the future.
"Skipping Club is a soulful themed fitness party in motion that brings back the joy of skipping," explains her website. "We meet for Signature Skips every Thursday at 2PM, exploring different neighborhoods with themed skipping adventures. Work? Skip it!"
A "Dayskipper Pass" will run you $20, although a "Duet" is a steal at $32. A gold membership, which includes access to all skips, as well as "private Facebook group access," "Michelle Joni insider benefits," "a 30 minute photo shoot with Michelle Joni," "a GIF and a story about you on michellejoni.com, written by Michelle Joni," and much, much more is $1,500. (Only 11 spots are available so don't wait.)
You may have noticed that Joni dropped her last name, Lapidos, in her new career as a skipping entrepreneur, perhaps in an attempt to distance herself from the unfortunate Google results tied to the 'fro. And yet, the "Scene & Be Seen" section of her site proudly catalogues the largely negative press she received amid the controversy. It's almost as if she enjoys the attention.