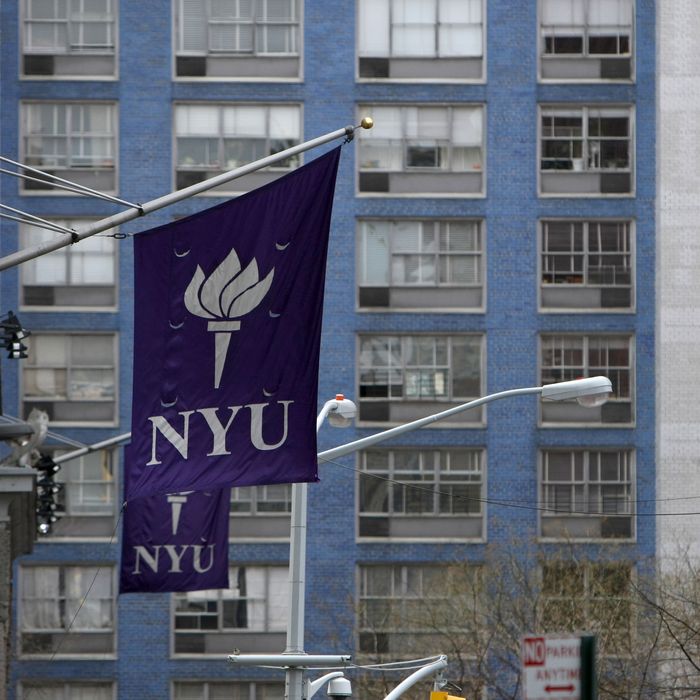 Photo: Bloomberg/Bloomberg2010 Bloomberg
NYU — long known for feuding with Greenwich Village residents who oppose its quest to take over the entire neighborhood — is now engaged in a dispute over some uptown territory. Some will be surprised to learn that NYU has an Upper East Side outpost in a three-story, limestone mansion on the corner Fifth Avenue and 78th Street. The Institute of Fine Arts — the university's graduate schools of art history, archaeology, and art conservation — has operated out of the building since 1958, when it was donated by Doris Duke. More recently, real estate mogul Sheldon Solow gave NYU a condo located on the ground floor of 3 East 78th Street, which just happens to be next door to the Institute of Fine Arts. The New York Times reports that NYU is now ready to make use of that space with the help of a connective "10-foot-long covered passageway" to be built in the alley in between two buildings. The residents of 3 East 78th Street do not like this idea.
NYU says that it intends to make the proposed tunnel tasteful. "Situated a dozen feet from the sidewalk, it would only rise a foot or two above street level, made from steel painted the color of the limestone buildings," the Times explains. But that's not good enough for the neighbors, who include a former Alfa Romeo executive, the president of Dannon, and a couple of bankers: 
N.Y.U. knows this will ruin the value of the building and then they can capture the rest of it cheap, which is what they really want," said Adam Leitman Bailey, the lawyer for the condo board. "How can you take the Mona Lisa and edit it so it fits in with a Picasso?"
For now, the university and the people of 3 East 78th Street are at a stalemate over whether NYU even has the right to "punch a hole" in the side of the condo so that it could be connected to the passageway. (The Institute of Fine Arts and the adjacent building are in Upper East Side Historic District, and the landmarks commission has a lot of say in what happens there.) But if NYU doesn't get its way, professors and students will have to use the lobby to enter and exit their new digs, which will probably be pretty annoying to those who live upstairs. As downtown learned the hard way, people can sometimes win a real estate battle with NYU, but never the war.