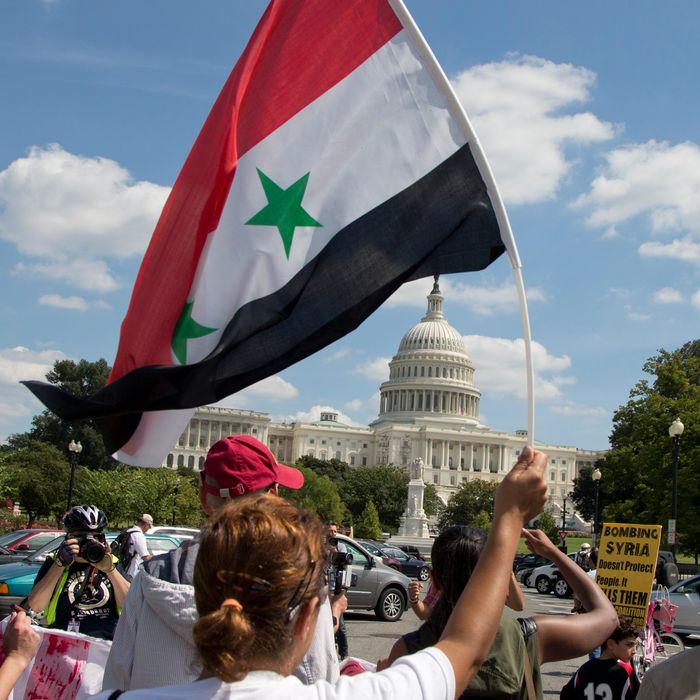 Photo: AP Photo/Carolyn Kaster
The Islamic State in Iraq and Syria's advances in Iraq have prompted a new round of complaints from lawmakers about Obama's reluctance to arm the rebels in Syria's civil war. In a recent appearance on Fox News Sunday, House Intelligence Committee Chairman Mike Rogers said Obama's "indecision" in Syria allowed ISIS militants "to get healed, to get financed, to get trained and launch this military strike." On Thursday, almost exactly one year since Obama authorized limited weapons shipments to the rebels, the president requested $500 million to expand its efforts to train and equip members of the Syrian opposition. While U.S. arms falling into the hands of terrorists has always been a concern, the Associated Press reports that administration officials say they're now increasingly confident about their ability to distinguish the moderates from the extremists in the Syrian opposition.
How they intend to do that remains unclear. The training program proposal is part of a $65.8 billion request to Congress for funding various operations overseas, including a counterterrorism fund and expanding the military's presence in Central and Eastern Europe. According to the New York Times, military and State Department officials said that so far there's no specific program to aid the Syrian rebels, "nor could administration officials specify which moderate Syrian opposition members they intended to train and support, or where they would be trained." Officials who spoke to the Wall Street Journal had slightly more detail, saying the program might not begin until next year, and it could take six to eight months to train the first batch of fighters.
The new mission would be run by the Pentagon, and would either supplement or replace the year-old effort to train the rebels, which is led by the CIA. That program is conducted in Jordan, but officials there have said they're concerned that they may become a target for both ISIS and the Assad regime if it's expanded. "There are a lot of unanswered questions," said a senior Pentagon official.
Whatever the program ultimately looks like, it will mark a significant expansion in the United States' role in the Syrian civil war, and the wider conflict in the Middle East — though the administration is still emphasizing that the U.S. military is not returning to combat in the region. Caitlin Hayden, a National Security Council spokeswoman, said in a statement, "While we continue to believe that there is no military solution to this crisis and that the United States should not put American troops into combat in Syria, this request marks another step toward helping the Syrian people defend themselves against regime attacks."