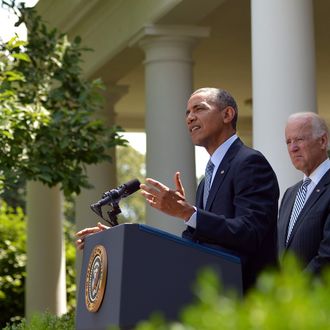 Please?
Photo: Mandel Ngan/AFP/Getty Images
The president once again negged John Boehner and friends in a speech this afternoon, promising "a new effort to fix as much of our immigration system as I can on my own, without Congress." Unless, of course, they want to cut the crap and pass a bill first, although it didn't sound he would be holding his breath. "While I will continue to push Republicans to drop excuses and act," Obama said, "Americans cannot wait forever." Instead, he'll move to take executive action this summer, "without delay."
While Boehner cries "king," Obama pointed out that whatever Congress passes, even if it's not perfect, will supersede anything he can do on his own. But Boehner said last week that the House would not vote on a comprehensive bill this year. "Maybe it will be after the midterms, when they're less worried about politics. Maybe it will be next year," offered Obama. "Whenever it is, they will find me a willing partner."
"Pass a bill! Solve a problem," he said. "Don't just say no." He did not, however, say please, so this may just be a problem of leadership.