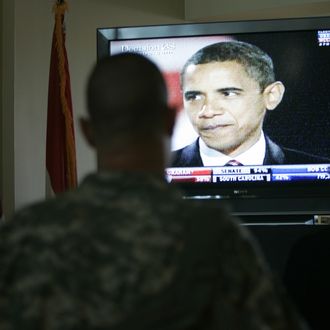 A soldier at the U.S. Embassy in Baghdad watches President-elect Barack Obama on TV in 2008.
Photo: PETROS GIANNAKOURIS/2008 AFP
Though President Obama stressed several times last week that the United States "will not be sending U.S. troops back into combat in Iraq," the White House revealed on Monday that it's deploying several hundred military personnel to Iraq, and may send even more in the coming days. First, the Associated Press reported that Obama is considering sending "a small number of American special forces soldiers" to assist Iraqi troops in their fight against the Islamic State of Iraq and Syria (ISIS). Then a short time later, the White House confirmed that non–special forces troops are being sent to provide support and security for U.S. personnel at the American Embassy in Baghdad. In a letter to Congress, Obama said up to 275 troops are being deployed, "for the purpose of protecting U.S. citizens and property, if necessary, and [they are] equipped for combat."
Roughly 170 of those forces are already in Iraq, and another 100 soldiers are on standby in an unspecified country nearby. The Iraqi government has agreed to let them enter the country. U.S. officials said none of the American forces will be authorized to engage in combat, but they are allowed to defend themselves if they're under attack.
After the insurgents took control of several Iraqi cities last week, the U.S. announced it would be scaling back the number of staff at the embassy in Baghdad. The troops will help some U.S. personnel in Baghdad relocate to consulates in Basra and Erbil, and the Iraq Support Unit in Amman, Jordan. A large number of staffers will remain in Baghdad, and the embassy will remain open, for now.