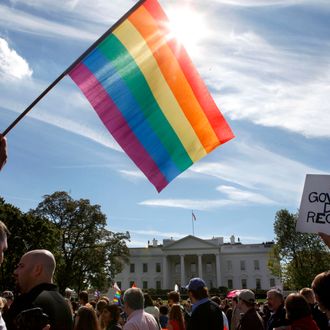 Thanks to John Boehner and friends, it's still legal to discriminate on the basis of sexuality and gender identity in the United States of America in 2014. But the failure by Congress to pass the Employee Non-Discrimination Act, which stalled in the House last year, has finally convinced President Obama to do something about it, as he's promised since the 2008 campaign. The Huffington Post reports that the White House is currently drafting an executive order that would ban discrimination against any gay, lesbian, bisexual, or transgender employees of any federal contractor that does business with the government.
That is, of course, unless Congress wants to get itself together and make something happen first. Ha.
"The president's intentions are clear," an official told HuffPost, which added the implication that "the White House is leaking the news to warn lawmakers that they have a limited window to pass more sweeping workplace discrimination legislation before he acts without them."
"This is consistent with the president's views that all Americans, LGBT or not, should be treated with dignity and respect," a White House source added to the Los Angeles Times. Senator Jeff Merkley, who co-sponsored the Senate's ENDA bill, is all for Obama's action, considering his colleagues don't seem interested in passing laws. "With this announcement, the arc of history bends a little farther toward justice," he said. There goes Dictator Obama again, forcing the world toward justice.