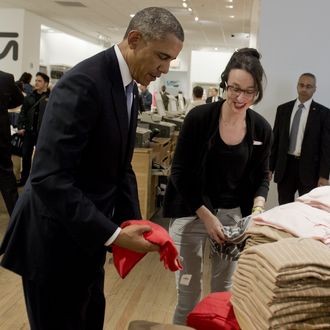 Obama enjoys an authentic NYC experience.
Photo: SAUL LOEB/AFP/Getty Images
That visit to the Gap in February meant more to President Obama than anyone realized. Several pages into a lengthy story on the state of Obama's presidency, Politico reveals that during the trip, the president remarked that he missed being on streets of New York, and weeks later he was still talking about it. Obama's associates believe Chicago will win the battle for his presidential library, but the president would like to settle in New York, where he attended Columbia University, after leaving office. Friend and former NBA star Alonzo Mourning said Obama mentioned Hawaii as another possibility, "But the one thing that stood out more than anything else was New York." "What he cherishes and misses is the serendipity — you don't know who you're going to bump into or what they're going to say," Senior Adviser Valerie Jarrett said following the Gap excursion. "He hungers for that." Though, after running into Bill Clinton a few times, he'll probably get over it.