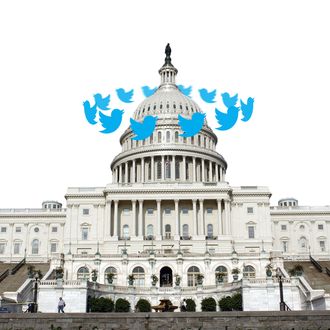 Photo: Photo: Stefan Zaklin/Getty Images
The political dick pic strikes again. Ohio Representative Steve Stivers has accepted the resignation of his longtime aide and chief of staff Adam Kuhn after a dirty photo of the public servant appeared on the Twitter account of an adult film actress. "Over the weekend, I was the victim of an attack on Twitter from a woman I had a relationship with in my personal life," Kuhn said to Politico in a statement. "I realize and apologize I had used poor judgement in my personal life regarding this relationship. The woman who posted this has reached out to me to apologize."
But she's not that sorry, telling Politico she was looking for "revenge."
"I hate you, AJK, you selfish pompous asshole," tweeted Ruby Adultstar ("The Pornstar Pundit, and debate lover") on Saturday, presumably about Adam Joshua Kuhn. She included "at least one photo of Kuhn's penis" directed at the account of his boss, a member of the United States House of Representatives, Politico reports. "Now we're even," she added.
Other messages from Ruby's since-deleted account that day included, "Sucks when someone plays with your life and heart and ignores you, feels great doesn't it?," "If you have to ask Why, then you are an moron," and "Love is just a cruel joke. It's not real, a facade."
Calling herself "a disgruntled former girlfriend," the woman told a Politico reporter she "just wanted to teach the pompous asshole a lesson," although she was in love with both him and her husband at the same time. "I was trying to make him hate me, I guess." That'll do it.