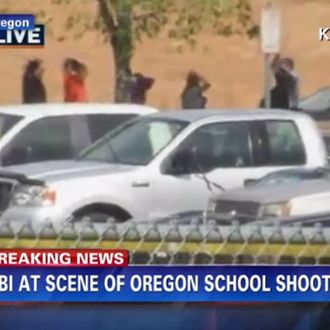 This time it was Reynolds High School in Troutdale, Oregon. Police say the shooter is dead and the area secure after shots were fired around 8 a.m. local time. At least one student was killed, the Associated Press reports.
"Today is a very tragic day for the city of Troutdale and Reynolds School District," said Troutdale Police Chief Scott Anderson. "I'm very, very sorry for the family, and for all the students, and everybody who will be impacted by this tragic incident." Details about the shooter's motive are not yet known.

The attack with what police said was a semi-automatic weapon — "Shooter dressed in all black w AR-15 and vest and helmet. Cornered in bathroom by officers," according to Good Day Oregon's Kate Cagle — was the 74th since December 2012, when Adam Lanza killed 20 children and six adults at Sandy Hook Elementary School in Newtown, Connecticut. That's one about every eight days.
In 2014 so far, there have been 37 school shootings. As of February, about half of the incidents were fatal.
Georgia tops the dishonorable list, with ten shootings reported since Newtown, while Florida is next with seven. Overall, 31 states are represented on the list.

The numbers, compiled by Everytown for Gun Safety, which has the full list, include any time, fatal or not, "a firearm was discharged inside a school building or on school or campus grounds, as documented in publicly reported news accounts," and therefore may actually be under-counting.
This post has been updated throughout.