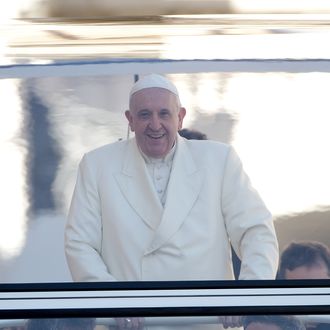 Photo: Franco Origlia/2014 Getty Images
Pope Francis loves people: He loves to minister to them and talk to them about what they're wearing and bless their exotic pets, but it's hard to do those things from behind a pane of glass. So, he has decided to stop riding around in the bulletproof Popemobile intended to protect him from assassination attempts. "I cannot greet the people and tell them I love them inside a sardine can, even if it is made of glass. For me it is a wall," Francis told the Spanish newspaper La Vanguardia. 
While this preference has caused Francis's security team some stress, he seems totally comfortable with being out in the open. "It's true that anything could happen, but let's face it, at my age I don't have much to lose," he said. Ditching the Popemobile also allows Francis to use cars that are more consistent with his cool-guy (for a Pope) image, such as the "silver hatchback Fiat" he was seen in during a recent visit to Rio.