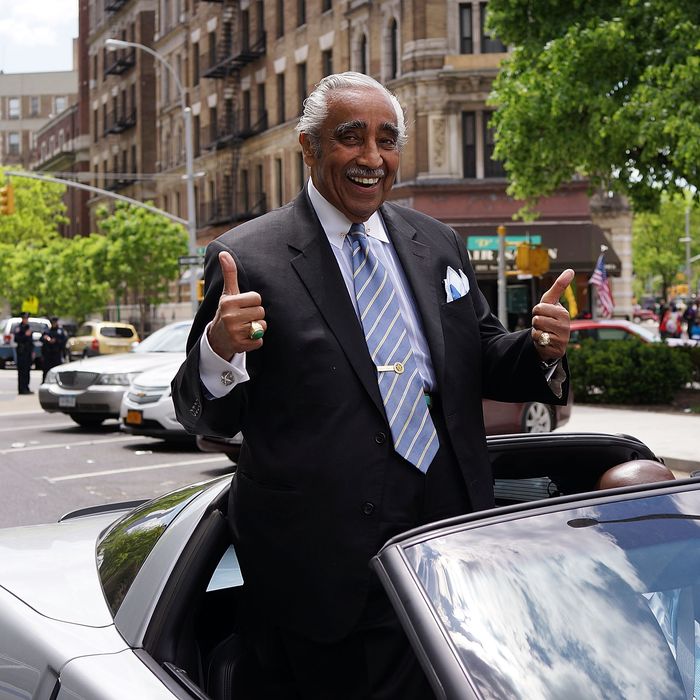 Photo: Spencer Platt/2014 Getty Images
Aside from giving the Republican Party a jolt, Eric Cantor's stunning loss to David Brat earlier this month was a reminder that it's time to start paying attention to the midterm elections. While the rest of the Republican congressional leaders are safe, for now, we should see some interesting results again in today's primaries. By the end of the day, Maryland might be one step closer to electing its first African-American governor, or the nation's only openly gay governor. In Mississippi, we may see an incumbent senator ousted by a tea-partier, and in New York, we'll find out if 84-year-old Representative Charlie Rangel can hold on to his seat for one last term. Here's what you need to know about the latest batch of primaries.
Will Mississippi's Thad Cochran be the first incumbent senator unseated this year?
Tuesday's most high-profile race is the runoff between six-term Mississippi Senator Thad Cochran and State Senator Chris McDaniel. Cochran trailed his tea-party challenger in the June 3 Republican primary by less than 1 percent, but neither had he votes necessary to secure the nomination. McDaniel claims that Cochran is insufficiently conservative and has been in Washington too long (he was first elected to Congress in 1972, the same year McDaniel was born). Cochran countered that his seniority is valuable, noting that if he reclaims his position as chairman of the Senate Appropriations Committee, he can bring federal dollars to the state.
Outside groups have poured $12 million into the race, and Cochran picked up support from establishment Republicans like Senator John McCain, while McDaniel is backed by Sarah Palin and Rick Santorum. In recent weeks, Cochran has tried some unconventional tactics, such as urging Democrats and independents to vote in the open primary, and reaching out to the Mississippi's large percentage black voters, who are generally ignored by Republicans in the state.
The race got even nastier on Monday, after Kate Cochran, the senator's daughter, posted a long message on Facebook in which she complained about McDaniel and the "New Right," saying he "relies solely on Jesus, the Constitution, and common sense." McDaniel turned the quote into a campaign slogan, and enraged the Cochran campaign by posting it on Facebook with the hashtag "#Who'sYaDaddy."
Who will replace retiring Oklahoma Senator Tom Coburn?
Oklahoma's Republican Senate primary is notable because it isn't a battle between the establishment and the tea party. Senator Tom Coburn is stepping down two years early due to health problems, and the men most likely to replace him don't fit neatly into either group. U.S. Representative James Lankford is a Baptist minister with strong support from religious conservatives, and a member of the House GOP leadership. T.W. Shannon was the state's first black House speaker and a member of the Chickasaw Nation. There are five other candidates in the race, and the two rising GOP stars are probably headed for a runoff election on August 26.
Will Maryland make history in its gubernatorial race?
Governor Martin O'Malley, who is unable to run for reelection due to term limits, is considering a run for the presidency, so Maryland's Democratic primary should produce some 2016 speculation. O'Malley has endorsed Lieutenant Governor Anthony Brown, who would be only the third African-American governor ever elected in the United States. Maryland may also make history by electing state lawmaker Heather Mizeur as the nation's first openly gay governor. (Democrats outnumber Republicans in the state by more than two to one.)
Brown had a 20-point lead over Mizeur and State Attorney General Doug Gansler in a recent Washington Post poll, but even he admitted there could still be an upset. "Now the verb is don't get Cantored," Brown said last week. "So don't be lulled into complacency with what the polls tell you."
Will Colorado's Tom Tancredo continue causing headaches for Republicans?
The former congressman and notorious immigration foe is battling three other Republicans for the chance to take on Democratic Colorado Governor John Hickenlooper in the fall. He's raised more money than the other candidates and some consider him the front-runner, which is scaring many in his own party. For obvious reasons, the GOP isn't looking forward to running a general election candidate who's suggested that the U.S. should threaten to bomb "holy sites in Mecca and Medina," and warned that if Western civilization succumbs to "the siren song of multiculturalism, I believe we're finished."
Will Representative Charlie Rangel win a 23rd term in Congress?
After a recount that lasted three weeks in 2012, Representative Charlie Rangel beat Democratic State Senator Adriano Espaillat by just under 1,000 votes (despite accusations of voter suppression and general Board of Elections incompetence). When the 84-year-old Harlem congressman said he would run for a final 23rd term in office, Espaillat decided to make it a rematch. This year the Democratic primary in New York's 13th Congressional District was even nastier, with Rangel opening one debate by mocking his rival in a weird fake phone call, and Espaillat's camp accusing a Rangel supporter of crashing one of his rallies with an "unconcealed weapon" (which was never found).
Rangel, who was censured by the House for ethics violations in 2010, had a hard time securing endorsements from his Democratic colleagues. Eventually, he won the support of former President Bill Clinton and Governor Andrew Cuomo, but President Obama and Mayor Bill de Blasio have refused to endorse any candidate (along with Reverend Al Sharpton, whose associate Reverend Michael Walrond Jr. is also running). 
Last week, a NY1/Siena College poll showed Rangel was supported by 47 percent of likely primary voters, compared to 34 percent for Espaillat. If the state senator wins, he'll be the first Dominican-American elected to Congress.
Will Claudia Tenney be the next David Brat?
Richard Hanna, a two-term congressman from Utica, New York, has angered some of his fellow Republicans by supporting gay rights, attacking the tea party for extremism during his last election, voting against postponing the implementation of Obamacare, and opposing a ban on federal payments to subsidize abortion. State Assemblywoman Claudia Tenney is challenging Hanna in the Republican primary in New York's 22nd Congressional District, arguing that he has abandoned his conservative principles.
Tenney may have a shot at unseating Hanna if turnout is low on Tuesday, according to Syracuse.com. In March, a poll commissioned by Hanna's camp showed him leading with 73 percent of likely Republican voters to Tenney's 17 percent — however, it was conducted by the same firm that worked with Eric Cantor, and predicted that he would beat tea-party challenger David Brat. Tenney is hoping to replicate Brat's success, though even if she wins, Hanna is a far cry from the House majority leader.