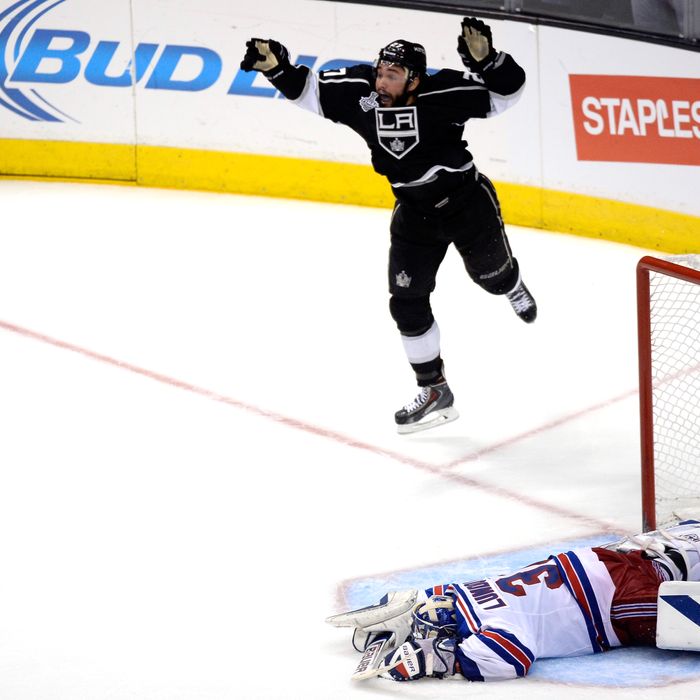 Alec Martinez celebrates his Stanley Cup-winning goal.
Photo: Kevork Djansezian/2014 Getty Images
The record books will show that the Los Angeles Kings won the 2014 Stanley Cup by defeating the New York Rangers in five games. Years from now, those who didn't actually live through the 2014 Final might be fooled into thinking that such a short series was lopsided — that the heavily favored Kings breezed to their second title in five years. Of course, nothing could be further than the truth. The underdog Rangers, making their first appearance in the final in 20 years, turned out to be a worthy opponent. Three of their four losses came in overtime, and the last of them — in last night's double-OT Game 5 — came in an epic game hockey fans will be talking about for years come.
"Epic," of course, might not be how Rangers fans would choose to describe Game 5 this morning. They'd likely opt for "excruciating," or "torture-like," or "heart-attack inducing." The wild overtime produced numerous chances for both teams, but Kings fans won't be spending the summer thinking about their near-misses. Rangers fans, meanwhile, will spend months if not years thinking about the goal-post that Ryan McDonagh hit in the first overtime, or the breakaway that Chris Kreider couldn't convert on, or the Rick Nash shot at a wide-open net that was deflected away by a stick in the second overtime. There were other chances, too. If you see a Rangers fan today, give him or her a hug. They had a rough night.
It was the kind of tension-filled game that could get non-fans hooked on the sport — and make the existing ones question why they do this to themselves. The Rangers, for the third time in this series, blew a lead in Los Angeles. And in each of those games, the Kings would complete their comeback in overtime. Just a couple of plays over the past two weeks could have dramatically changed the outlook of this series. The Kings might have still won eventually, but Rangers fans can't help but wonder, "What if?"
Last night's Game 5 had a little bit of everything. There was controversy on a questionable penalty call that gave the Kings a power play on which former Ranger Marián Gáborík would score to tie the game at two. There were huge shifts in momentum: The Staples Center crowd was silenced by a Brian Boyle shorthanded goal near the end of the second period, before the ice would tilt back toward the Kings in the third. And there were brilliant performances by both goaltenders — not just by winning goalie Jonathan Quick of Los Angeles, but by Henrik Lundqvist, who was especially incredible in overtime, bailing out his teammates and keeping his season alive with save after save. He deserved better in this game, and in this series.
Alec Martinez's Cup-winning goal in the second overtime came after midnight on the East coast, which meant that for Rangers fans watching at home, it happened on June 14, 2014. Die-hards will immediately recognize that date as the 20th anniversary of their last Stanley Cup victory. That game was the greatest victory in the franchise's history, but last night (or this morning, really) saw one of its most painful losses. The Rangers blew leads in three games, and there's only so much that can be blamed on luck and bad bounces. That they hung with Los Angeles for so much of this series only makes it hurt even more. They were closer than a 4-1 series loss would suggest.
Still, despite the unhappy ending, this spring was the most fun Rangers fans have had in two decades.
For two months (and the last few weeks especially), hockey mattered in New York, and not just to Rangers fans, for whom it's always mattered. It became part of the larger conversation of the city, attracting the eyeballs of casual fans and even non-fans. I know it's cool for die-hard hockey fans not to care whether their sport grows in popularity. It's a group known to be very protective of the game, and wary of outsiders who don't have as much invested in it as they do. But screw all that.
It's fun to see the Rangers on the back page of the tabloids nearly every day. It's cool to see Bryant Park packed with thousands of people to watch a road game on a big screen. It's nice to walk into a sporting goods store and see the Rangers' gear right up front, and not buried in a corner next to three dozen Brett Gardner jerseys. If the existence of a Rangers cronut subtly suggests to customers that the Rangers are a big deal, that's a good thing.
To Rangers fans, the enduing images of last night might be the photos of a devastated Henrik Lundqvist in the locker room after the game. Those fans could be forgiven for having similarly emotional reactions, even if they were just watching from their couches. But once the sting of Martinez's goal and the Game 5 loss wears off, Rangers fans will remember that this team wasn't supposed to get this far in the first place, especially not after falling behind 3-1 to Pittsburgh in the second round. And they'll remember how many great moments this postseason gave them: The Game 7 win against Philadelphia, the emotional comeback against the Penguins, the series clincher against Montreal. Last night's loss might hurt, but it's been a hell of a run.