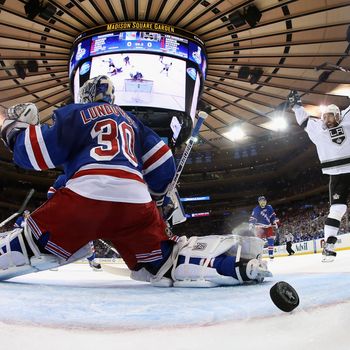 Dwight King celebrates the Kings' first goal in Game 3.
Photo: Bruce Bennett/2014 Getty Images
Rangers fans waited 20 years to see their team play a Stanley Cup Final game at Madison Square Garden, but it took just one goal to silence the home crowd in Game 3 on Monday night. After losing the first two games of the series in overtime (but generally not playing poorly), the Rangers looked like they'd head into the first intermission of Game 3 tied 0-0 — a respectable start against such a heavy favorite and one that would have allowed the energy of the crowd to remain at a high level into the second period. But Jeff Carter's goal with 0.7 seconds remaining in the period gave the Kings their first lead of the series, and quieted Rangers fans who'd hoped to see their team get back into the series with a win. By the time the game's final minutes ticked off the clock, the scoreboard read 3-0 Los Angeles, but a Rangers rally seemed so unlikely that it might as well have read 10-0. The Rangers were cooked, and now on Wednesday night, they'll face elimination.
A look at what went wrong for the Rangers must begin with a look at what went right for the Kings: Goalie Jonathan Quick was awesome, making saves both spectacular and routine in a shutout of the team he grew up rooting for as a kid in Connecticut. But the Rangers also hurt themselves with careless, unnecessary penalties, and couldn't score while on the power play themselves.
Meanwhile, bounces weren't going their way: The Kings' first two goals came on shots that deflected off a Rangers player, and their third goal came after a fortunate bounce on a properly defended two-on-one allowed Mike Richards to get the puck back after an attempted pass and beat goaltender Henrik Lundqvist.
The Rangers certainly had chances to score in Game 3, just as they did at critical points of Games 1 and 2. But Quick was great early and often. This first-period save on Mats Zuccarello set the tone for the netminder's big night:
Alain Vigneault's club said all of the right things after their Game 2 loss. After all, despite blowing two-goal leads in each of the first two games, and despite a pair of heartbreaking overtime losses, they proved they could hang with a very good Kings team. But after Mike Richards scored his goal late in the second period, they lost whatever swagger they may have still had. The final 20 minutes felt like a countdown to the inevitable. Power plays would come and go, and even after pulling Lundqvist for an extra skater, it felt as though they were simply trying to save face by ending the shutout.
Rangers center Derick Brassard said after Game 2 that while the Rangers had hoped to steal a game in Los Angeles, Game 3 was actually "the most important one." Indeed, there's a (somewhat flawed) line of thinking that says a team isn't really in trouble until it loses it at home. Well, the Rangers have now lost at home, and they are in trouble.
Rallying from a 3-0 series deficit isn't unheard of in the Stanley Cup Playoffs (four teams have done it, including these Kings). But to do it against such a strong opponent is highly unlikely. On Wednesday night, while the Kings are playing for their second championship in three years, the Rangers will be hoping to avoid the indignity of being swept — and to prevent the Stanley Cup from being awarded to an opponent in their building (though the latter could still happen if the series goes to a sixth game). The Stanley Cup Final hasn't ended in a sweep since 1998, when the Red Wings eliminated the Capitals in four. The Kings could snap that streak with a win on Wednesday.