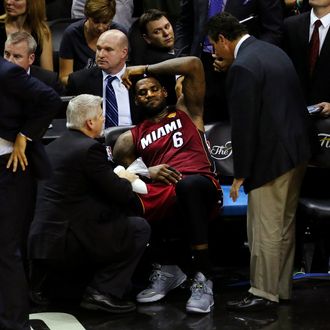 LeBron James.
Photo: Chris Covatta/Getty Images
Last night a power failure in the electrical systems of San Antonio's AT&T Center caused the air-conditioning to off at Game 1 of the NBA Finals. Temperatures reached 90 degrees inside the arena, with players putting ice packs on their necks during time-outs to stay cool. Heat star LeBron James even had to leave the game early because of leg cramps. The Spurs won the game 110-95, but it wasn't the score that everyone was talking about afterwards. Here, the best (and worst) reactions to the sweaty opener of the NBA Finals.
There were jokes on Twitter, of course:
And a redefinition of the #lebroning hashtag, which months ago was used for a totally different meme related to James's flopping.
Predictably, a meme from earlier in the playoffs returned:
Gatorade, meanwhile, doesn't want the blame for LeBron having to leave the game early. As far as corporate trash-talking goes, this is pretty good. Suck it, Powerade!
Hockey fans — who have a stupid habit of hating on LeBron to portray the NBA as soft — came up with this. (The other player there is Derek Stepan of the Rangers, who last month missed only a couple of minutes of a playoff game with what would later be diagnosed as a broken jaw.)
And naturally, someone asked if there's a conspiracy afoot.