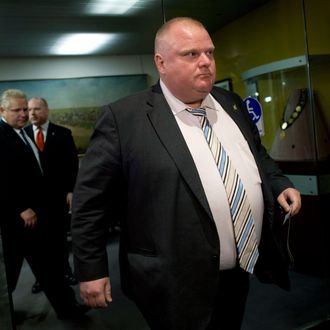 Photo: Lucas Oleniuk/The Toronto Star/ZUMAPRESS.com/Corbis
After a mostly uneventful two-month rehab stay, formerly crack-smoking Mayor Rob Ford has returned to Toronto's City Hall. He kicked things off with a Monday press conference that, conveniently, didn't include much of the local media (an aide blamed "space restrictions") or the answering of any questions. 
In a 15-minute statement, Ford acknowledged that he is an addict, saying, "I had become my own worst enemy." He also apologized for the things he did while drunk or high. "I am ashamed, embarrassed and humiliated," he said. "I was wrong and I have no one, but no one, to blame but myself." He also thanked the staff of his rehab for "[saving] my life." "I can proudly say I have begun the process of taking control of my life," he continued. "I'm also resolved to continue to work harder than ever for the taxpayers." 
Ford is still somehow up for reelection in four months. Naturally, those running against him were not swayed by his promises to do better this time. After wishing Ford "real success in his difficult road to recovery," mayoral candidate John Tory urged him to "step down without delay" over "his repeated behavioural lapses," "his consorting with underworld figures," and recent reports that his brothers used his office to benefit companies with ties to their family. Another candidate, Olivia Chow, put it more simply: "Rob Ford has failed as mayor, isn't a role model for our children, and doesn't share our values." 
Meanwhile, perhaps more damning, City Council Pam McConnell called the mayor's return "irrelevant." It doesn't really matter — we managed before he left, we managed after he left and we'll manage now that he's back," she said. In other words, Ford better make sure no one changes the locks on him again.