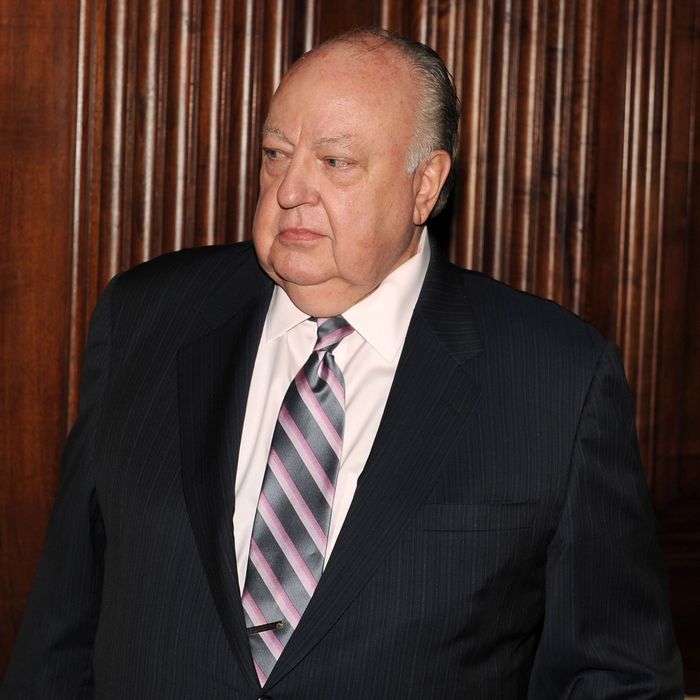 Wanna buy a house?
Photo: Patrick McMullan
Over the past decade, Roger Ailes amassed a real-estate empire in Putnam County, New York. In 2008, he bought the small-town newspaper and renovated its headquarters on Main Street in Cold Spring. He owns a 9,000-square-foot mansion overlooking the Hudson River and West Point, in the hamlet of Garrison. And in recent years, he bought up as many as four properties surrounding his compound to protect his privacy. One local said he "ordered the removal of all trees around his house so that he … had a 360-degree view of any leftist assault team preparing to rush the house." Ailes's brother once told me: "He is a strong believer in the security of real estate. He thinks they don't make any more of it."
But now Roger Ailes is downsizing.
Last month, the Fox News chief quietly listed a pair of homes on the market. On May 12, three days before his 74th birthday, Ailes put a property on Beverly Warren Road up for sale for $1.275 million. The contemporary three-bedroom house sits on three wooded acres and features spacious decks, a pool, and a cottage that, according to the listing, can be used as a "writer's retreat." 
On May 25, Ailes listed a mid-century modern home on Route 9D for $1.475 million. The four-bedroom home was renovated last year and, according to the listing, includes a "chef's kitchen," a pool, and a terrace with a "built-in stone grill." 
Ailes's brokers are keeping mum about the reasons he is selling. "I'm not in a position to speak for them," agent Nora Preusser told me when I asked about the home off Route 9D. Heather Fitzgerald, who is listing the Beverly Warren Road property, confirmed Ailes is selling but declined to explain why. "They want to sell it. It's all I'm allowed to say," she said. 
Sources in town say they don't know why Ailes is shedding properties. One thing is certain: He has been notably quiet in recent months. In town, Ailes has not been seen coming and going. And Fox News insiders tell me the same story: His presence at the network is markedly reduced. One source said he has not been attending his 8 a.m. editorial meeting and is rarely seen around the hallways. "In discussions with various people, it has come up: what happens when Roger is no longer there?" one well-placed source told me. The source continued: "Bill Shine and Michael Clemente" — Ailes's deputies — "are nervous nellies about what's going to happen. They're jockeying and not getting along." 
Irena Briganti, Ailes's spokesperson, did not return a call for comment.