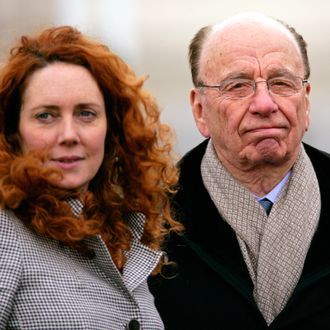 Rebekah Brooks, not guilty.
Photo: Indigo/2010 Indigo
After years of sensational reports about the hacking of a dead teen's phone (among many others'), 130 days of trial, and a week of deliberations, a jury in London has found ex-tabloid-queen and Rupert Murdoch–ally Rebekah Brooks not guilty of all charges. Less lucky was Andy Coulson, the former News of the World editor who went on to work as head of communications for Prime Minister David Cameron; he was found guilty of conspiring to hack phones, while five others, including Brooks's husband and assistant, were also acquitted.
In the end, it's Cameron who's left to repent more than Murdoch. "I have an old-fashioned view about innocent until proven guilty," the prime minister said of Coulson in 2011. "But if it turns out I have been lied to, that would be the moment for a profound apology. In that event I can tell you I will not fall short." (The jury is still considering additional charges, for conspiring to pay off police, against Coulson, along with former News of the World editor Clive Goodman, who pleaded guilty to separate phone-hacking charges in 2007.)
Following the partial verdict, Cameron issued a short statement with a "full and frank apology" for ever hiring Coulson. "It was the wrong decision and I am very clear about that."