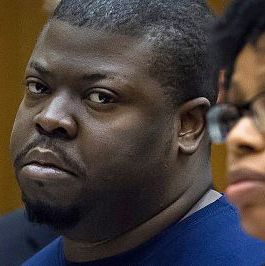 Photo: John Minchillo/AP/Corbis
Daniel St. Hubert, the man charged with fatally stabbing 6-year-old P.J. Avitto and seriously injuring 7-year-old Mikayla Capers in an East New York elevator, has been transferred to Bellevue Hospital, presumably for psychiatric treatment, the New York Daily News reports. St. Hubert, who is also the primary suspect in the killing of 18-year-old Tanaya Grant-Copeland and the wounding of 53-year-old Kyle Moore, was diagnosed with schizophrenia during the five years he spent in prison for trying to strangle his mother. The 27-year-old's sister, Judith Perry, has told reporters that he was released in late May without medication or a referral to a doctor. Earlier this week, St. Hubert blamed "the devil" for his actions, but Perry says that he now seems to think that he hasn't committed any crimes.
Perry, who believes that the Department of Correction sent to St. Hubert Bellevue because of his "documented mental illness," told the Daily News that her brother has said, "I didn't do it." "He's hanging on," she explained. "But he says he can't take this too long because he knows he's innocent." The NYPD has DNA evidence linking St. Hubert to the stabbing of the two children.
Meanwhile, St. Hubert's surviving victim, Mikayla, continues to recover from her 16 stab wounds. The New York Post reports that the little girl is now off life support and able to walk on her own. But Mikayla's grandmother told the paper that her granddaughter, "Has not talked about what happened … It's too soon right now."