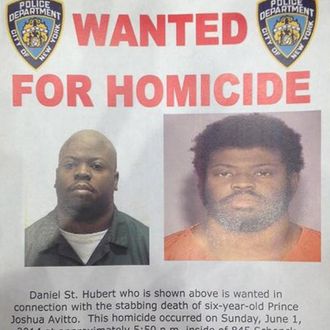 Less than an hour after detectives named him as a suspect at a Wednesday evening press conference, Daniel St. Hubert was arrested for allegedly stabbing two children on Sunday, leaving a 6-year-old boy dead. Police said they were able to identify the 27-year-old after running DNA found on a knife at the crime scene through the New York State database. St. Hubert has nine prior arrests and has assaulted a Department of Correction officer and an NYPD officer. He was paroled after being held on domestic assault charges just nine days before P.J. Avitto and 7-year-old Mikayla Capers were stabbed in the elevator of the Boulevard Houses in East New York. At the press conference, officials said St. Hubert should be considered armed and dangerous, and urged anyone who spotted him to call 911 immediately. "I ask all New Yorkers to help in this investigation in any way you can. Do it for this grieving family, do it for all of us, so we can be safe," said Mayor Bill de Blasio.
St. Hubert was arrested in Ozone Park, Queens around 8:30 p.m., and he has yet to be charged with a crime. Police have said Sunday's attack may be related to the nearby fatal stabbing of 18-year-old Tanaya Copeland on Friday. Similar kitchen knives were used in both attacks.
For the past three days police have relied on a sketch based on Mikayla's description of the suspect, as the attack was not caught on video. While the city had earmarked money to have surveillance cameras installed in the NYCHA complex, they had yet to be installed. Mayor de Blasio called that "unacceptable bureaucracy," and ordered that the cameras be put in place by the end of the year. Mikayla, who was stabbed 16 times, remains in critical condition at New York-Presbyterian Hospital at Columbia.