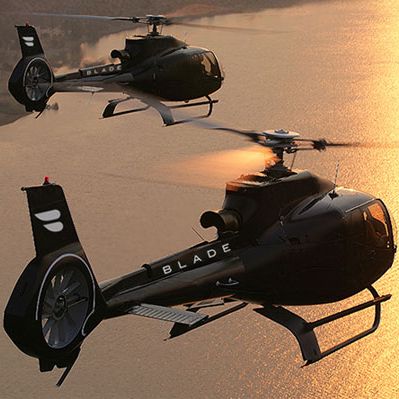 "You have possibly just made the smartest decision of your summer."
The email popped up in my inbox shortly after downloading and registering with Blade, a new mobile app that lets users book a helicopter to fly directly to the Hamptons from New York City. A few taps on your phone, and you can reserve a seat on an already-scheduled flight, or, if all copters are booked (or fail to take off at your desired time), you can book your own and crowd-source the remaining seats. It's easy, if not exactly cheap.
You might be tempted to call it the Uber of helicopters, but Blade's creators say it's actually the "Beats of aviation" — that is, less sharing economy, more streaming of a luxury service to the currently plane-less. "The idea was to figure out how to fly to the Hamptons without working for a hedge fund," said Rob Wiesenthal at Blade's launch party on the East Side Heliport at 34th Street Tuesday night. Wiesenthal, the COO of Warner Music, brainstormed the idea with Steve Martocci, founder of the messaging app GroupMe, though both say they aren't involved in the app or running of the company, leaving it in the hands of its general manager, Evan Licht.
"We're democratizing the entire process, allowing people to crowd-source," said Licht. "It's the group-consumption that we're all creatures of right now."
The average one-way trip to or from the Hamptons — about 35 minutes — costs about $575, according to prices currently listed in the app. If you can't make the scheduled flights, or they're all booked, you can create your own flight for around $3,000 and crowd-source the remaining seats.  And if for some reason your helicopter is grounded because of bad weather, Blade will shuttle you out east in a Maserati at no cost and give you a credit for your next Blade helicopter trip.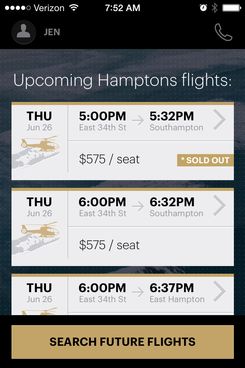 This being a tech start-up, naturally Blade hasn't gone out and purchased a fleet of whirlybirds. (Who needs those kind of costs?) The aircraft belong to fleet operator Liberty Helicopters, which also provides the pilots.
The company has been operating — they say successfully — since Memorial Day weekend and hopes to expand soon to service Boston-to-Cape Cod, L.A.-to-Las Vegas, and possibly European routes. "If you fail in Silicon Valley, it's a badge of honor," Wiesenthal said to a cocktail-attired crowd stuffed rather un-glamorously inside the heliport's trailer. "If you fail in New York City, you're a moron."
The trailer has been made sleek for the occasion, in Blade's black and silver colors. Servers pass around rosé in air-travel-safe covered wine glasses. Techno music thumps on the loudspeakers. The party is intended to move onto the helipad, but there's a rumor we're being delayed by a late-departing Governor Chris Christie. When the all-clear is given, the guests stream out to witness the arrival of a Blade helicopter, carrying surprise musical guest David Correy, a former X-Factor contest who sings Coca-Cola's official World Cup theme song. Soon after, a pair of gleaming black Maseratis roll onto the helipad.
Back inside, a guy is helping guests as they scroll through the Blade app on their phone. One woman asks if it's possible to pay by AmEx, and he scrawls a note and promises to investigate. "This is the new bottle service," he says when the guests walk away. "It isn't getting there, it's how you get there."