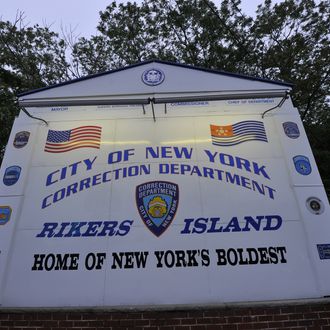 Photo: JEWEL SAMAD/2011 AFP
After months of looking into violence and other illegal behavior at Rikers Island, New York City authorities conducted a huge raid of the jail complex on Monday afternoon. Investigators with the Department of Investigation and the Department of Correction examined around 75 locations in the prison, including searches of inmates, cells, staff areas, and the guards themselves, who were reportedly pulled over and patted down as they arrived at work.
The sweep focused on the George Motchan Detention Center — an all-male facility that houses 2,000 inmates — whose 100 correction officers were all searched. According to a joint statement from the DOI and DOC, the "operation was necessitated by information" uncovered by the ongoing probe of Rikers. The New York Daily News reports that at least two guards were arrested on Monday: Devine Rahming and Steven Dominguez, who have both admitted to smuggling contraband into the prison in the past, were caught with cocaine. They've been charged with drug possession and are now being held in protective custody.
Before this week's raid, the investigation had resulted in the cases of a dozen correction officers being turned over to city prosecutors. Officials said that more charges against guards are expected soon.