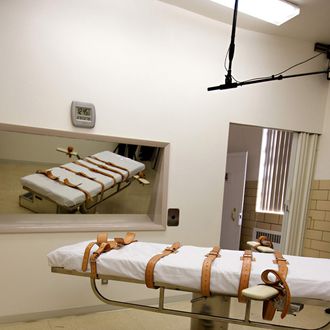 No executions have been carried out in the United States since Clayton Lockett's botched lethal injection in Oklahoma seven weeks ago, but that's set to change on Tuesday evening. On Monday, a federal judge rejected Georgia inmate Marcus Wellons's request for a stay of execution, and he is now scheduled to be executed at 7 p.m. on Tuesday using a single injection of the barbiturate pentobarbital. Wellons, who was convicted of raping and murdering a 15-year-old girl in 1989, argued that his rights were being violated because Georgia refuses to reveal the source of the drug, or the qualifications of those administering the drug. "This is not an abstract concern," his lawyers wrote, citing Lockett as an example of "the consequences of error in the placement of the intravenous lines during an execution."
Florida inmate John Henry is scheduled to be executed on Wednesday night, after the state Supreme Court dismissed an appeal to overturn his death sentence on the grounds that he's intellectually disabled. Henry stabbed his second wife and her 5-year-old son to death in 1985, after serving less than eight years in prison for fatally stabbing his first wife in 1976.
A third death-row inmate, Missouri double-murderer John Winfield, was originally scheduled to be put to death on Wednesday as well, but last week a judge temporarily halted his execution. Winfield's lawyers said evidence had emerged that state officials intimidated a prison employee who wanted to support his clemency bid, and also challenged Missouri's refusal to disclose the source of its lethal injection drugs.